High 5: Historic Cemeteries
Commune with the dead at these time-honored burial grounds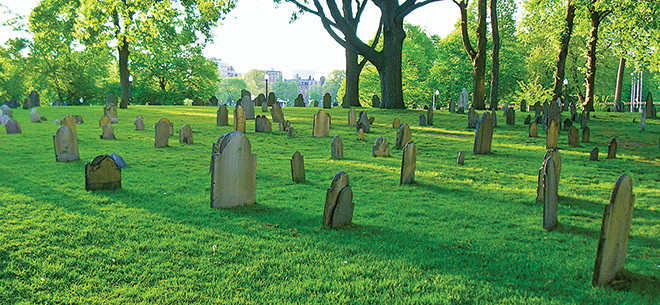 King's Chapel Burying Ground (58 Tremont St., 617-227-2155): Boston's original graveyard, King's Chapel was founded in 1630, the same year as the city. Notable burials include Massachusetts' first governor, John Winthrop; William Dawes, Paul Revere's fellow midnight rider in 1775; and Mary Chilton, alleged to be the first woman to disembark from the Mayflower.
Copp's Hill Burying Ground (45 Hull St., 617-635-4505): The city's second-oldest cemetery was founded in 1659. Notable names interred here include the Mather family of preachers (including Salem Witch Trails firebrand Cotton), USS Constitution shipwright Edmund Hartt and Prince Hall, founder of the nation's first black Masonic Temple.
Old Granary Burying Ground (95 Tremont St., 617-635-4505): Dating from 1660, this sacred space is home to the remains of revolutionaries John Hancock, James Otis, Robert Treat Paine, Paul Revere and Samuel Adams, as well as victims of the Boston Massacre.
Central Burying Ground (corner of Boylston and Charles streets, pictured): Located on Boston Common, this eerie spot, delineated in 1756, houses the remains of painter Gilbert Stuart,,composer William Billings and poet Charles Sprague, as well as participants in the Boston Tea Party and American Revolution.
Mount Auburn Cemetery (580 Mount Auburn St., Cambridge, 617-547-7105, mountauburn.org): The country's first garden-style cemetery when it was established in 1831, Mount Auburn features beautifully landscaped grounds, decorative ponds, an abundance of wildlife, a tower with sweeping views of the surrounding area and the graves of many famous figures, including Henry Wadsworth Longfellow, Mary Baker Eddy and Winslow Homer.