A Peek at the Past: Hugh O'Brien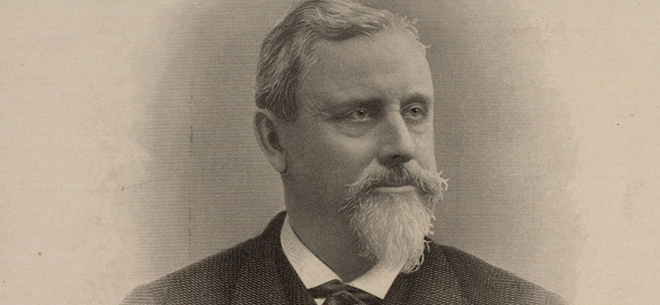 Photo: Courtesy of the Boston Public Library
Boston's first Irish immigrant elected mayor, Hugh O'Brien was born in 1827 in Ireland's County Cork. As the city's Hibernian heritage is celebrated in the days surrounding St. Patrick's Day, now is an ideal time to look back at the life of one of the Hub's pioneering political figures.
Emigrating with his parents to Boston in 1832, O'Brien arrived on these shores nearly a generation prior to the wave of Irish immigration spurred by the infamous Potato Famine of the 1840s. That event and the ensuing exodus from Ireland led to a dramatic increase in the Irish population of Boston (reportedly more than 40% by 1885) that resulted in greater political power at the polls, one of the key elements in O'Brien's eventual elevation to the position of Mayor of Boston. Prior to that, O'Brien rose to prominence as a successful printer and publisher, having started his own publication, the Shipping and Commercial List, after starting his career at the Boston Courier when he was only 12 years old. He entered politics when he became a Boston alderman in 1875, and parlayed that position into an ultimately victorious mayoral campaign in 1884. He served four consecutive one-year terms beginning in 1885 before he was narrowly defeated by Republican banker Thomas N. Hart at the end of his final term in 1888.
Well-regarded by the native-born Protestant establishment as well as his fellow Irish Catholics, O'Brien presided over the creation of such noteworthy institutions as the landmark Emerald Necklace park system and the flagship Copley Square branch of the Boston Public Library. In addition, he widened streets, lowered taxes and was an ardent advocate for the downtrodden, especially orphans, many of whom paid their respects at O'Brien's funeral when he passed away in 1895.
Although O'Brien was a relatively sober custodian of his duties, his legacy cemented the Boston Irish political machine as a force to be reckoned with and paved the way for more flamboyant Irish and Irish-American mayors like JFK's grandfather, John "Honey Fitz" Fitzgerald, and the notorious "Rascal King," James Michael Curley. Today, those who want to honor O'Brien can view a bronze bust at the Boston Public Library created by Irish-American sculptor John Donoghue or visit his grave at Brookline's Holyhood Cemetery (584 Heath St., 617-327-1010, holyhood.com).