10 Great Destinations in The Fenway
Savor baseball, the arts, nightlife, dining and more in Boston's most dynamic neighborhood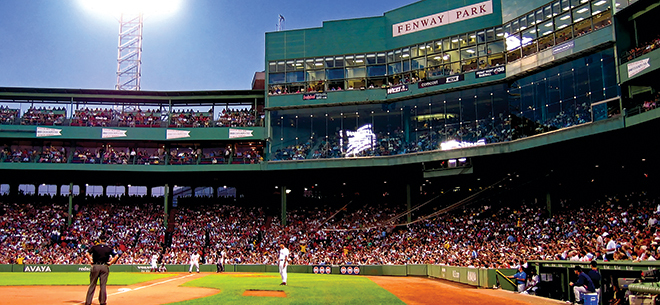 Boston Red Sox
The 2018 World Series champs return to Fenway Park for the home opener April 9 against division rivals the Toronto Blue Jays. For baseball fans who can't get their hands on the much-coveted tickets, tours of the historic ballyard are available any day of the week.
4 Jersey St., 617-226-6666, mlb.com/redsox
Time Out Market
The area's newest attraction—a dining destination featuring gourmet goodies from the city's hottest chefs—is set to open this spring.
401 Park Drive, timeoutmarket.com/boston
Lansdowne Street
Boston's nightlife hub boasts sports bars, restaurants, The House of Blues, a brew pub, and fun and games at Lucky Strike Social.
Between Brookline Avenue and Ipswich Street
Back Bay Fens
Part of Frederick Law Olmsted's Emerald Necklace, this park/community garden is home to a playground, athletic fields, a visitor center, a rose garden and the country's oldest victory gardens.
Between The Fenway and Park Drive, 617-522-2700, emeraldnecklace.org
Mary Baker Eddy Library
This hidden gem dedicated to illuminating the life of its namesake, the founder of Christian Science, also houses the jewel-like Mapparium, a stained-glass view of the world as it was in 1935.
200 Massachusetts Ave., 617-450-7000, marybakereddylibrary.org
Hojoko
Award-winning Japanese fare and cocktails can be found at Tim and Nancy Cushman's lively izakaya.
The Verb Hotel, 1271 Boylston St., 617-670-0507, hojokoboston.com
Sweet Cheeks Q
The Fenway restaurant empire of Tiffani Faison started at this acclaimed barbecue joint.
1381 Boylston St., 617-266-1300, sweetcheeksq.com
Symphony Hall
This acoustic marvel is home to both the Boston Symphony Orchestra and the Boston Pops.
301 Massachusetts Ave., 617-266-1492, bso.org
Museum of Fine Arts
Explore gallery upon gallery of art from all eras, including special displays of the work of Frida Kahlo, Henri de Toulouse-Lautrec and contemporary photographer Graciela Iturbide.
465 Huntington Ave., 617-267-9300, mfa.org
Isabella Stewart Gardner Museum
A breathtaking treasure showcasing art from ancient times until now along with its beloved garden courtyard, this institution currently houses exhibits by Botticelli and Joan Jonas.
25 Evans Way, 617-566-1401, gardnermuseum.org