Boston Accent: Darkness and Joy
Director Fred Sullivan, Jr. takes the helm of Commonwealth Shakespeare Company's free production of Cymbeline on Boston Common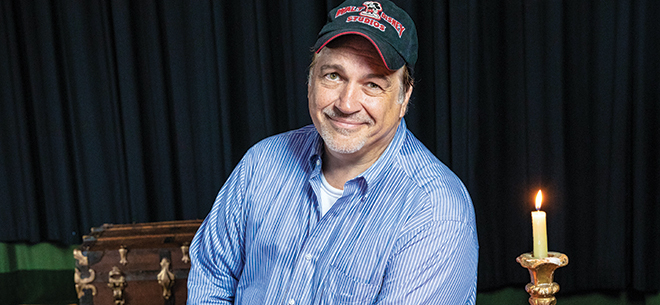 Photo: Evgenia Eliseeva
Veteran actor and director Fred Sullivan, Jr. celebrates his 13th go-round with Commonwealth Shakespeare Company (CSC) this summer, as the troupe once again takes up residence on American's oldest public park for its free annual Shakespeare on the Common production.
The seasoned CSC player—he states that "I think I have the record for the most-cast actor in CSC's history"—is also the resident director of Rhode Island's Gamm Theatre and has directed 55 plays in his long career. Being an actor as well, he feels, gives him an advantage in this capacity, and he recently received a high compliment from one of his cast members for being "a great acting coach. My head swelled, but it's what I've been doing for 40 years." He is entering unknown territory, however, in two respects. It is both his first time taking the director's chair with CSC, as well as his initial try at tackling the Bard's late-career romance, Cymbeline.
Sullivan is no stranger to Shakespeare, though, as his history in that realm runs deep. "When I was a teenager growing up in Chelsea, I would come into Boston to see Bill Cain's Boston Shakespeare Company perform the classics in rep. It excited me like nothing else and expanded my imagination, communication skills, appreciation for great literature and playwrighting, and, of course, the rarity and inspiration of true, deep talent. Shakespeare's plays are timeless and vivacious and thrilling if done well. His insights into our nature and humanity are profound and his poetry gorgeous."
In his professional life, Sullivan has "worked on 28 of [Shakespeare's] 37 plays over 50 productions," yet is "over the moon" about CSC artistic director Steven Maler allowing him to select Cymbeline, a tale of family intrigue set in ancient Britain. "The language and characters are astonishing. It's a fairy tale of complexity, darkness and joy." Not only that, the company has "delighted in the passion and hilarity in this play and process. We laugh a lot. That seems much needed these days."
Not to say that Cymbeline—or any Shakespeare play, for that matter—is pure escapism. As Sullivan puts it, "It is always time for Shakespeare and audiences will always find the current news in his writing because human beings are still struggling with what human beings have always been struggling with—ourselves."
Cymbeline
July 17–August 4 at Parkman Bandstand on Boston Common, 617-426-0683, commshakes.org. Free.