A Peek at the Past: Boston Fish Pier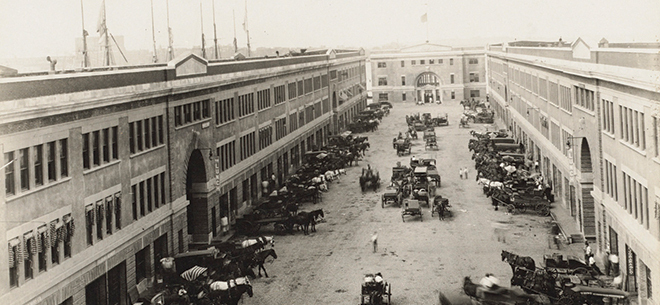 Photo: Courtesy of Boston Public Library
Boston's Seaport District along the waterfront of South Boston has undergone a dramatic shift in recent years, evolving from acres and acres of windswept parking lots to a city-within-a-city filled with hotels, restaurants, nightlife destinations, brew pubs, an art museum, a federal courthouse, a cinema and more. For more than a century, though, the Boston Fish Pier—the country's oldest working edifice of its kind—has stood as a reminder of the area's seagoing past.
Begun in 1910 and originally known as Pier 6, Boston Fish Pier was slated to replace the smaller, downtown piers that had been the center of the fishing industry in the Hub. Two years later, two large buildings were constructed along opposite sides of the pier to house fish dealers and other related marine businesses, along with an administration and auction building at the end of the pier. The structure also housed an eight-story cold storage facility, since demolished along with a bygone power plant, that was said to have been the largest in the world. When the Fish Pier made its official debut, it contained berths for 40 fishing vessels, with the capacity to have more than 80 boats unload simultaneously. For much of the 20th century, the fishing business at the pier was booming, peaking in 1963 with a total catch of 339 million pounds.
Concerns about its aging infrastructure, however, led to the sale of the pier by its owner, the Boston Fish Market Association, to the Massachusetts Port Authority (Massport), in 1972. Massport, an independent public agency that manages much of the waterfront along with Logan Airport, has since expended many resources to update and renovate Fish Pier, insuring its continued use as the flagship for the region's fishing industry for generations to come. Another event securing its preservation was the Fish Pier's listing on the National Register of Historic Places in 2017.
Besides amenities for its intended purpose, Fish Pier is also home to a landmark-within-a-landmark, the No Name Restaurant, which has served ultra-fresh seafood dishes to hungry fishermen and visitors alike since 1917. The former administration building and auction house is now known as the Exchange Conference Center, and hosts a variety of events, from weddings to business meetings. On August 4, the Fish Pier takes on a festive atmosphere when the Boston Seafood Festival takes over for its eighth edition.