And Now Reap the Reward…
After a long hike, visit these nearby breweries for sudsy refreshment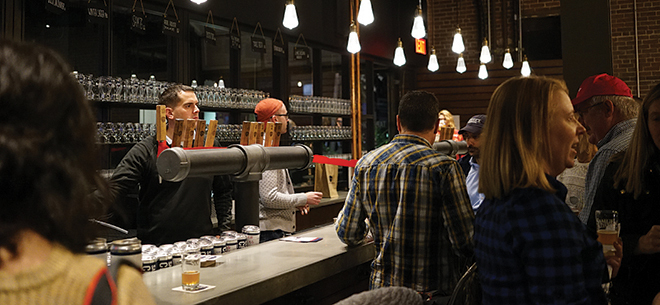 Dorchester Brewing (1250 Massachusetts Ave., 617-514-0900, dorchesterbrewing.com; 2.2 miles from Franklin Park): Enjoy its own beers alongside several guest brews.
Samuel Adams (pictured; 1.5 miles from Arnold Arboretum): The icon pours at its tap room seven days a week.
Turtle Swamp Brewing (4228 Washington St., Roslindale, 617-522-0038, turtleswampbrewing.com; 2 miles from Boston Nature Center): The Jamaica Plain company also offers this satellite beer garden.
Trillium Brewing (110 Shawmut Rd., Canton, 781-562-0073, trilliumbrewing.com; 4.4 miles from Blue Hills Reservation): Boston's acclaimed Trillium expanded south of the city in 2016.
Lord Hobo Brewing (5 Draper St., Woburn, 781-281-0809, lordhobobrewing.com; 2.3 miles from Middlesex Fells Reservation): Hoppy ales dominate at this tap room.
Bent Water Brewing (180 Commercial St., Lynn, 781-780-9948, bentwaterbrewing.com; 3.9 miles from Lynn Woods Reservation): Enjoy both the familiar and unusual four days a week.