Boston Accent: A Meal to Remember
Kate Sheehan, associate director of media relations and marketing for Plimoth Plantation, invites visitors to experience a Thanksgiving they won't forget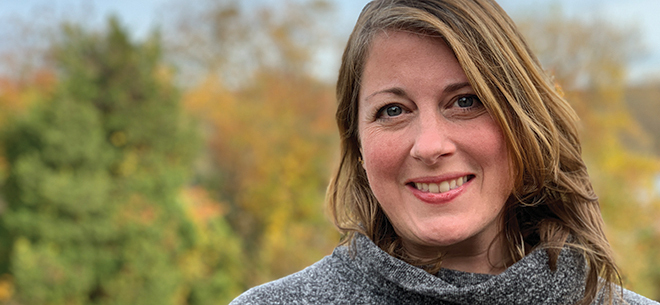 The famed living history museum Plimoth Plantation isn't often thought of as a dining destination—except, perhaps, during this time of year. Late November is a popular time to visit this beloved recreation of a 17th century English village due to the early settlers' connection to Thanksgiving, which was in part inspired by a three-day harvest feast held in 1621 by the Pilgrims and native Wampanoag. In recognition of this, Plimoth Plantation offers several opportunities to indulge in a holiday meal not far from where that original repast took place.
According to Kate Sheehan, associate director of media relations and marketing for Plimoth Plantation, the site dishes out "more than 3,500 Thanksgiving-themed meals," offering three options: the New England Harvest Feast, a sit-down dinner featuring authentic English recipes from the 1600s along with the singing of traditional psalms and a mix of modern historians and costumed characters who answer questions about the food; the Story of Thanksgiving Dinner, a plated feast that resembles a more modern holiday meal that is hosted by the facility's team members; and a casual buffet stuffed with everything you could want for Turkey Day.
Sheehan is a particular fan of the Harvest Feast, stating that the "stewed pompion—or pumpkin—and the native corn pudding are two flavors I crave at this time of year, and are balanced out beautifully by other aspects of the meal, like mussels and roasted pork." This one is closest to the 1621 celebration, and "immerses guests in a taste of early Plymouth Colony through food, song and tradition rather than seeking to re-create that event." She further points out that visitors can learn about the holiday from many perspectives. "On our historic Patuxet site, Native members of our education team may choose to share their experience of mourning and reflection." Others, however, participate directly in the Story of Thanksgiving offering.
Coming to Plimoth Plantation from financial services marketing and communications, Sheehan says that working at Plimoth Plantation "has been a privilege and an eye-opening education." Drawn to its educational mission, she touts "the fun way this museum invites the public to experience history in a new light." That's something for which to be thankful, indeed.