10 Great Ways to Celebrate Irish Boston
Revel in the Hub's Hibernian heritage at these historic sites, tours, events and taverns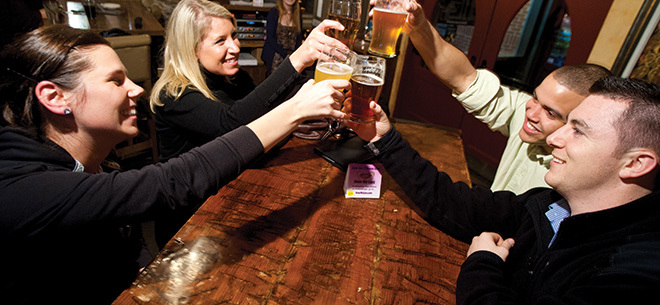 Photo: Derek Kouyoumjian
The Kinsale
Great food—including several Irish specialties—along with dozens of foreign and domestic beers and entertainment options like trivia nights, karaoke and live music—what's not to like?
2 Center Plaza (Cambridge St.), 617-742-5577, classicirish.com
The Asgard
The Kinsale's sister restaurant (pictured) just across the Charles River offers many of the amenities its sibling does, along with large communal tables perfect for promoting its congenial atmosphere.
350 Massachusetts Ave., Cambridge, 617-577-9100, classicirish.com
Irish Cultural Centre of New England
Just a few miles south of the city lies this institution dedicated to all things Irish. Several events are planned around St. Patrick's Day, including a kids' celebration (March 14) and concert featuring Dublin-born tenor and Celtic Thunder star Paul Byrom (March 17).
200 New Boston Dr., Canton, 781-821-8291, irishculture.org
John F. Kennedy Presidential Library and Museum
This tribute to the country's first Irish-American President, an I.M. Pei-designed masterpiece overlooking Boston Harbor, houses a wide range of JFK-related artifacts and exhibits. On March 15 at 10 a.m., partake in the St. Pat's spirit by enjoying the family-friendly Celtic Bells—The Irish in Boston, a program highlighting the story of Irish immigrants in the Hub through poems and lively songs played on traditional Celtic instruments.
Columbia Point, Dorchester, 866-535-1960, jfklibrary.org
The Chieftains
The iconic, Grammy Award-winning Irish ensemble returns to Boston's Symphony Hall March 13.
301 Massachusetts Ave., 617-482-6661, celebrityseries.org
The Druid
Enjoy a convivial crowd and, on weekends, live traditional Irish music at this Inman Square eatery.
1357 Cambridge St., Cambridge, 617-497-0965, druidpub.com
The Field
This Hibernian haunt in the heart of Central Square has been satisfying patrons for more than 25 years.
20 Prospect St., Cambridge, 617- 354-7345, thefield.food90.com
The Plough and Stars
A cozy respite for generations, this pub has been offering a genuine Irish vibe since 1969.
912 Massachusetts Ave., Cambridge, 617-576-0032, ploughandstars.com
Irish Heritage Trail
Learn about the Hub's intimate connection to Ireland by following this self-guided tour through Downtown, Beacon Hill, Back Bay and the Fenway. Sites include Downtown Crossing's Irish Famine Memorial, the State House on Beacon Hill and even Fenway Park. Maps are available at the Boston Common Visitor Center.
139 Tremont St. (Visitor Center), irishheritagetrail.com
Dropkick Murphys
Boston's favorite sons return to regale the Hub with its blend of punk and Celtic music, playing—along with plenty of special guests—three venues: the Encore Boston Harbor casino (March 13), House of Blues (March 14, 15 & 17) and the new Big Night Live (March 16) next to TD Garden after that night's Bruins game.