New Year, New Hope: Plymouth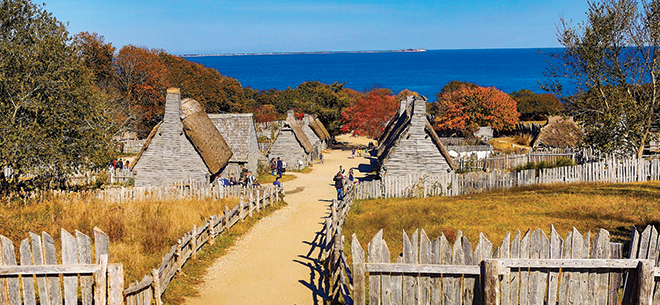 Photo courtesy of Plimoth Plantation
The town of Plymouth holds a significant place in Massachusetts history, lore and culture. Located approximately just 40 miles south of Boston, the coastal town is the site of the English colonial settlement Plymouth Colony, and is home to the Mayflower II, a full-size replica of the Mayflower, and the living history museum Plimoth Plantation (pictured). Take a break from virtual studies (and meetings) for a family field trip! Pay a visit to Plymouth Rock, the traditional landing site of the Mayflower Pilgrims, located on the shore of Plymouth Harbor in Pilgrim Memorial State Park. Extra credit to whoever can guess the number of visitors who visit the Rock each year (over one million!). Amy Naples, executive director of the Plymouth Area Chamber of Commerce, gave Panorama some recommendations as you plan your next visit to this historic town and its surroundings.
While many indoor activities and events are on hold, there are still many ways for visitors to get outside, get moving and experience Plymouth year-round. Enjoy the creativity of local artists and explore town with the Plymouth Scallop Roll, a public art display on view through winter 2021. The display features 29 hand-painted fiberglass shell structures each standing at four feet tall that are "sprinkled throughout town." Each shell is designed by a local artist and sponsored by a local business or organization. Let the shells serve as your guide to Plymouth; follow a map of the shells for a scavenger hunt adventure. Or strike a pose beside one of these showstopping sculptures, as "the shells make for some great photo-worthy social media posts," touts Naples. The shells also bring you to some excellent shopping and dining options, including the Cabby Shack restaurant and pub and the Village Landing Marketplace.
Enjoy harbor, ocean and marsh views on one of Plymouth's many wonderful walking, biking and hiking trails. Naples is a particular fan of the North Plymouth Rail Trail (also known as the Grace Trail), which follows the older section of rail lines from the Old Colony Railroad that in earlier days connected Cordage Park to Plymouth Center. Measuring slightly over a mile, the trail begins and ends at Nelson Memorial Beach Park (255 Water St.) at Plymouth Harbor, where visitors can take advantage of free parking. The Grace Trail offers visitors a "fun activity while you are walking, running, biking," that is perfect for the reflective and resolution-minded state we find ourselves in at the start of this New Year. The interactive experience invites those on the trail to ask and answer a question at each location on the trail, marked with a letter from the word "Grace."
Last year marked an important moment in Plymouth—the 400th anniversary of the Mayflower voyage and the founding of the Plymouth Colony in 1620. While events and programming years in the making were postponed due to the COVID-19 crisis, according to Naples, "We are hopeful to celebrate the Plymouth 400th Anniversary this year, a year late—yet one that deserves celebrating."
Last year saw the Plymouth Area Chamber of Commerce hard at work "advocating for opportunities for small businesses and being a voice for them" as well as serving as "a trusted and known source for new and important resources and communication to our members during these challenging times," according to Naples. When asked about hopes for Plymouth in 2021, Naples cites returning to in-person gatherings. "I also look forward to the hustle and bustle of the Waterfront, Downtown, to see restaurants busy and people enjoying concerts on the waterfront. Most of all I'd love to see the worry removed from the community and most importantly business owners." Whether looking to engage with American history, or stare in awe at stunning ocean views, there is no more iconic a spot to visit this new year than Plymouth.
For the latest information about guidelines for traveling and staying safe in Massachusetts, visit https://www.mass.gov/info-details/covid-19-public-health-guidance-and-directives.