The Hub Goes Green in March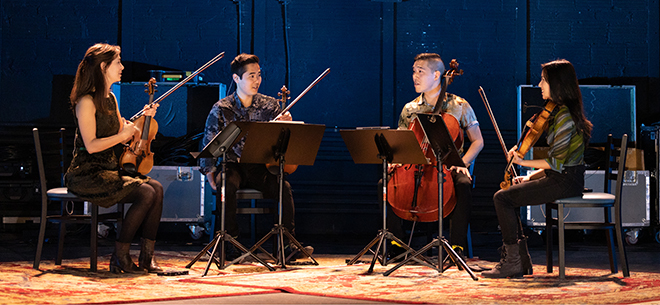 Photo: Daniel H. Jentzen
Like many holidays over the past 365-or-so days, St. Patrick's Day won't be the same as in years past, as most events have been cancelled or gone virtual. Despite still having to distance and be mindful of capacity numbers in restaurants, greater Boston finds itself a little more practiced this year and quite prepared to make March glow green with Celtic spirit once again.
Speaking of which, the Emerald Necklace Conservancy has taken this idea literally with its recent Lights in the Necklace display that runs through March 13. Although not specifically inspired by St. Pat's, this colorful spectacle washes six bridges along Frederick Law Olmsted's historic Emerald Necklace park system in green lights every evening from dusk to 9 p.m., giving us all a hint of spring.
Although the annual parade in South Boston is idle, performances inspired by St. Patrick's Day haven't disappeared. Brian O'Donovan, a fixture on local radio for two decades as host of GBH's "A Celtic Sojourn" Irish music program, brings back his A St. Patrick's Day Celtic Sojourn (pictured) as an online event March 11–17. Streaming from many locations and hosted by O'Donovan, the broadcast partially benefits the theaters around New England that would normally be hosting this Irish-themed concert and dance extravaganza in person. Another staple of the season are the Hub's favorite ambassadors for Celtic-tinged punk rock, the Dropkick Murphys. For the second year in a row, the band is hosting a virtual version of its annual St. Patrick's Day shows. This time, the March 17 live stream, which begins at 7 p.m., is free thanks to a generous sponsor, although donations are appreciated to help keep the group's crew afloat and their expenses paid during these trying times.
Corned beef and cabbage is a treasured Irish-American culinary tradition this time of year, and a great place to indulge is at the St. Patrick's Week festivities hosted by Canton's Irish Cultural Centre of New England. Enjoy this and more at two seatings on March 13 (4 and 6 p.m.), as well as three times on March 17 (1:30, 3:45 and 6 p.m.). Live Irish music will be streamed into the pub and dining room, and reservations are required. For those who'd rather celebrate at home, takeout—complete with accompanying pints of Guinness, of course, as an option—is available.
Boston has a long, treasured history with the Irish, so immerse yourself in this illustrious past by taking your own self-guided excursion down the three-plus-mile Irish Heritage Trail in honor of Ireland's patron saint. Beginning at the Rose Kennedy Garden in Christopher Columbus Park in the North End—the neighborhood where the mother of famed Irish-American and former U.S. President, John F. Kennedy, was born—and ending at Fenway Park—constructed by Irish builder Charles E. Logue—the Trail encompasses 20 sites and memorials related to the Hub's Hibernian heritage. Details about the Trail and other related sites throughout the state of Massachusetts can be found on the organization's website.