High 5: Beer Gardens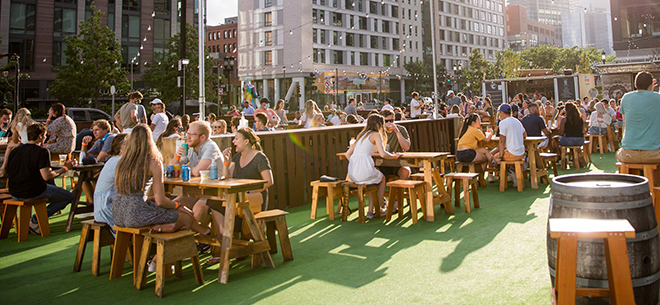 Photo: courtesy of Seaport by WS Development
Imbibe in the great outdoors at one of these sudsy destinations
Cisco Brewers Seaport Beer Garden (pictured): The Nantucket beer mavens return for the fourth year to this waterfront neighborhood on April 15. Per Massachusetts regulations, patrons must purchase food along with their beverages, yet fear not—a new food vendor, Rexicana Surf Cantina, offers Mexican- and Caribbean-inspired fare at its pop-up location at the 14,000-square-foot patio.
Trillium Brewing Company: No word on when this acclaimed brewery plans to re-open its seasonal beer garden on the Rose Kennedy Greenway, yet Trillium does boast a large patio space at its small facility in the Fenway, which made its spring debut on April 1. Taqueria El Barrio provides tasty treats to enjoy alongside pints of innovative and creative brew.
Owl's Nest Craft Beer Gardens: May is targeted for the opening of Everett-based Night Shift Brewing's two beer gardens along the Charles River. As in years past, a rotating lineup of food trucks are planned to satisfy the hunger of those visiting both the Esplanade and Allston outposts.
The Anchor: This two-story outdoor space adjacent to the USS Constitution has already opened for the season, offering a variety of adult beverages from breweries throughout New England. A variety of outdoor fitness classes are on the schedule as well for those that want to work off all those carbs. Next month, plans for the return of daily live music go into effect, and even live comedy on the second and fourth Sunday of every month, with a sneak preview on May 16.
Castle Island Brewing Company: In addition to the big news that this Norwood-based brewer plans to open a new tasting room closer to its namesake landmark in South Boston, this purveyor of hoppy ales and lagers has just re-opened its Party in the Parking Lot at its headquarters, which is in service Thursday through Sunday and features a beer-centric menu of snacks, tacos, mac & cheese and more by Lombardo's.