Fall Performing Arts Roundup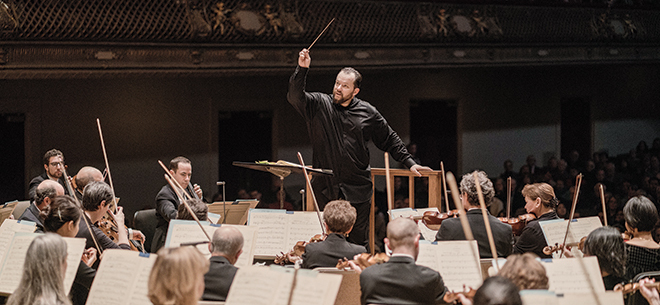 Photo: Marco Borggreve
Live performances are back, so gather your friends to revel in a cool season of music, opera and more
Classical Music
In a grand preview to, and celebration of, its upcoming season, the venerable Handel and Haydn Society (H+H) is staging a free show on the Charles River Esplanade's Hatch Memorial Shell on August 27, featuring Beethoven's Symphony No. 9 as well as the U.S. premiere of a new text to the composer's "Ode to Joy" by former Poet Laureate and Massachusetts native Tracy K. Smith. H+H's season officially kicks off October 8, and includes many of its usual benchmarks like Handel's Messiah at Symphony Hall November 26–28. Symphony Hall's main resident, Boston Symphony Orchestra (BSO), begins its 2021–2022 season at that treasured venue on September 30 with a program led by both Music Director Andris Nelsons (pictured above) and beloved composer and former Boston Pops conductor John Williams. Enjoy a free community concert featuring the two aforementioned conductors, current Pops maestro Keith Lockhart and Thomas Wilkins on October 3. Another occasional Symphony Hall resident, the Boston Philharmonic, opens its 43rd season there on October 15. Boston Baroque gets in on the classical action with its season debut on October 23 & 24 at the GBH Calderwood Studio. As usual, Boston's own Celebrity Series hosts a variety of classical and non-classical music performances throughout its season, opening on September 18 at Arlington Street Church with a show by the Latin jazz-inflected Claudio Ragazzi Quartet. Those looking for something a bit more off the beaten path can head to Dorchester's Peabody Hall on September 12 when Ashmont Hill Chamber Music presents a performance of Iraqi maqam—described as "the urban classical vocal tradition of Iraq"—by the ensemble Safaafir with guest Hamid Al-Saadi.
Opera
The Hub's biggest and oldest opera troupe, Boston Lyric Opera (BLO), returns to the stage October 1 & 3 with its production of Pietro Mascagni's classic one-act, Cavalleria Rusticana. The show has been moved from the Emerson Cutler Majestic Theatre to the open-air Leader Bank Pavilion on the Seaport's waterfront for safety considerations and to accommodate a full live orchestra and chorus. One of Boston's most innovative opera outfits is Guerilla Opera, which unveils the world premiere of Ellis, a multi-media work illuminating true stories of immigrants to America, at the historic Old South Meeting House October 2 & 3. Fractured, a collection of two works about characters dealing with traumatic experiences, ensues on November 17 at the Museum of Science.
Theater
Several of the Boston area's prominent theater companies and arts organizations are planning on welcoming patrons back to live performances this fall. The Huntington Theatre Company gets an early jump on the season with its opener, Hurricane Diane, a new comedy by Pulitzer Prize finalist Madeleine George that debuts August 27. The fall slate continues October 15 when another new laugh-fest, Jen Silverman's Witch, begins a one–month run. In the Theatre District, ArtsEmerson begins its 2021–2021 season online from October 5–17 with a stream of Out of Order, the latest extravaganza from Montreal-based circus troupe The 7 Fingers. Live shows return November 12 & 13 with a re-imagined version of the ancient Greek tragedy Iphigenia that utilizes the talents of legendary jazz icon Wayne Shorter, acclaimed musician Esperanza Spaulding and famed architect Frank Gehry. In celebration of its return, ArtsEmerson is also hosting a free open house at the Emerson Cutler Majestic Theatre on September 8 from 5–6 p.m. that allows visitors to mingle with staff and fellow theater lovers while checking out the historic venue's stage. Also in the Theatre District, the Boch Center hosts the 25th anniversary farewell tour of the groundbreaking musical Rent from October 12–17 and the rock 'n' roll tuner Million Dollar Quartet October 29 & 30. Around the corner, the venerable Emerson Colonial Theatre showcases the frenetic percussion phenomenon Stomp on its stage October 8–10, while Broadway in Boston brings the 2019 Tony Award-winning musical Hadestown to the Citizens Bank Opera House November 2–14. In the South End, SpeakEasy Stage Company kicks off its autumn season with Adam Rapp's Tony Award-nominated The Sound Inside—a drama about the burgeoning friendship between a college professor and her brilliant young student—from September 24–October 16, and continues with the acclaimed 2020 work BLKS—a wild show about three best friends enjoying a night on the town after one of them has a health scare—from October 29–November 20. In the Back Bay, Lyric Stage Company begins its revival September 24–October 17 with the romantic comedy Be Here Now, while Jason Robert Brown's beloved musical The Last Five Years takes the stage November 12–December 5. And in Cambridge's Harvard Square, the lauded, Diane Paulus-led American Repertory Theater has a big season planned, beginning with the tap dancing spectacular Ayodele Casel: Chasing Magic from September 25–October 9, followed by Macbeth in Stride—a modern-day, female-centered, music-filled version of Shakespeare's "Scottish Play"—from October 23–November 14.
Dance
The South End-based troupe Urbanity Dance has a 10th anniversary season planned that is designed to truly engage the community, as it opens its slate with a free public performance entitled Go stop listen. Still wait go on September 23–25 from 6–7:30 p.m. This "dance crawl" takes a small group of spectators through 10 South End locations, showcasing the work of dancers, musicians, storytellers and poets who tell the history of the neighborhood every five minutes along the way. Also, the Charlestown-based Kairos Dance Theater, currently celebrating its 10th anniversary season, presents a site-specific piece at the Boston Center for the Arts' Cyclorama building November 30 at midnight for free.