WINTER ARTS ROUNDUP: Visual Arts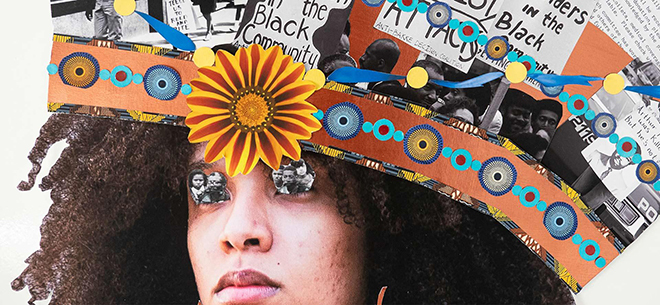 Helina Metaferia, Headdress 30 (detail), 2021
The colder months are the perfect time to head indoors and experience all the culture that Boston has to offer
Visual Arts
Perusing inspiring paintings, sculptures and the like during these frosty times is the perfect way to lift the spirits. If this is just the recipe to warm you up, the Boston area's world-class museums have you covered. The Museum of Fine Arts doesn't open its blockbuster J. M. W. Turner exhibit until the spring, yet its permanent collection along with several special shows currently on display—including Tattoos in Japanese Prints, up through February 20, and multi-media works exploring the lives of women of color by Helina Metaferia (pictured)—certainly make a visit to this Fenway favorite worth the trip. Also in the Fenway, the spectacular garden courtyard at the Isabella Stewart Gardner Museum is a welcome winter oasis, as is the museum's upcoming exhibit beginning February 10 that features images of South Africa's LGBTQIA+ community by renowned photographer Sir Zanele Muholi. Over in the Seaport, the Institute of Contemporary Art showcases an installation by Mexican artist Raúl de Nieves, as well as displays of the work of photographer Deana Lawson and colorful banners by Somerville-based artist Renée Green, both through February 27. Beginning February 17, a retrospective highlighting the bold art of Roxbury-based Napoleon Jones-Henderson makes its debut. Over in Cambridge, Harvard Art Museums always has something special cooking in addition to its impressive holdings. This season is no different, as Social Fabrics: Inscribed Textiles from Medieval Egyptian Tombs and Himalayan Art: Art of the Divine Abode are both unveiled on January 22. Just a bit north of Boston in historic Salem, the venerable Peabody Essex Museum continues its epic show on the Salem Witch Trials through March 20 while debuting several new exhibits, including the reimagined Native American and American Art collections beginning February 26.
Boston's vibrant gallery scene is not to be overlooked as well. The technology-centric Boston Cyberarts Gallery at the Green Street MBTA Orange Line station in Jamaica Plain hosts a mind-bending show by the duo known as bent/haus through February 20, while the Fort Point area of South Boston is the site of several shows overseen by the Fort Point Arts Community, including There Once Was Parking—an intriguing group exhibit exploring community and gentrification that is punctuated throughout its run by several special performances—at The Envoy Hotel's Assemblage Art Space through February 27. The South End features some of Boston's most exciting galleries, including the Boston Center for the Arts' Mills Gallery, which is home to the interactive, thought-provoking display Raafat Majzoub: Grounds through February 20. A slew of galleries inhabit the South End's SoWa District, where patrons can enjoy new contemporary art, including the current works at the Bromfield Gallery that highlight the winners of its annual SOLO competition through January 30. Bromfield's Valentine's Day-themed group show, appropriately titled Ardor, opens on February 2.
As of January 15, the City of Boston is requiring patrons of indoor spaces wear masks and show proof of vaccination. Cambridge has a mask mandate as well for all indoor spaces. Many institutions are allowing entry for reserved times only. Please check websites for details.