High 5: Ghost Tours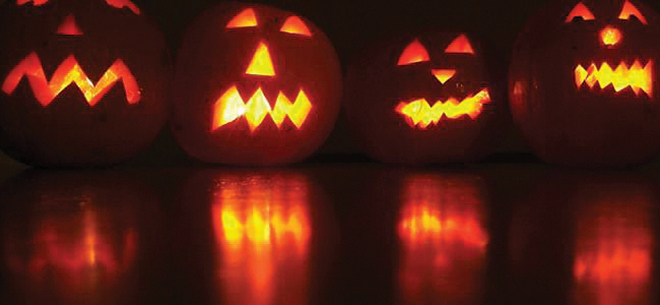 Photo: courtesy of Boston By Foot
Explore the dark side of the Hub this October on one of these bone-chilling jaunts
Haunted Boston: Running Friday–Monday nights at 8 p.m. throughout October, this eerie, 90-minute amble through the area in and around Boston Common focuses on hair-raising folklore dating back to the city's Colonial Era and beyond.
Ghosts & Gravestones: Recommended for those 13 years of age and older, this trolley ride that runs several times nightly through October stops at such (allegedly) haunted locales as the Omni Parker Hotel and downtown's many historic burying grounds. Tour guides dressed in ghoulish costumes add extra flavor to the grisly proceedings.
Ghost City Tours: Offered in both family-friendly and adults-only versions throughout the month, these spirited walks through storied locations focuses on many of the sites associated with the American Revolution. The company also offers a haunted, 21+ pub crawl that visits several venerable watering holes where the vaunted Founding Fathers imbibed and planned rebellious acts.
Boston By Foot: This non-profit perambulatory sightseeing outfit offers the Dark Side of Boston excursion on weekends through November 20, as well as the popular, annual Beacon Hill with a Boo! tours on October 31. The former runs at 6 p.m. Friday–Sunday nights and recounts terrifying tales of disease, crime and general mayhem from Boston's ancient North End, while the latter boasts four All Hallow's Eve adventures through the colorful confines of a fully decked out Beacon Hill that include stories of mystery and murder associated with one of the Hub's ritziest—and oldest—neighborhoods.
Boston Ghosts: You won't soon forget this nightly one-mile jaunt through Downtown Boston that relives the area's past, both historic and paranormal. Bundled tickets that include discounts on tours of Salem and New Bedford's Lizzie Borden House are also available.