High 5: Signs of Spring in Boston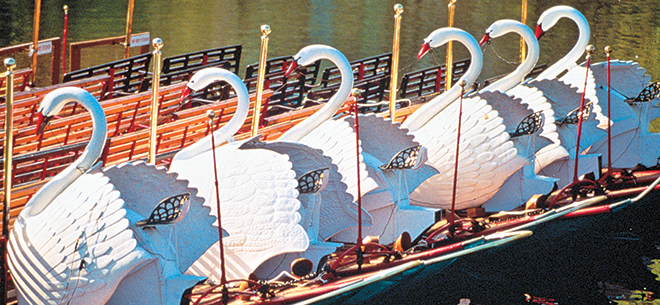 Photo courtesy of Greater Boston Convention & Visitors Bureau
The Hub comes to life with these beloved seasonal happenings
Opening Day at Fenway Park: The Boston Red Sox bring a ray of hope to the Hub's faithful baseball fans when they return to Major League Baseball's oldest ballpark for the home opener against the Baltimore Orioles on March 30 at 2:10 p.m. This annual ritual is sure to be surrounded by great fanfare as the Sox try to bounce back from a disappointing 2022 campaign.
Return of the Swan Boats (pictured): America's oldest public botanical garden, the Boston Public Garden, welcomes these pedal-powered vessels back to its lagoon beginning April 15. A fixture since 1877 and still run by the Paget family that started the trend, the elegant gliders are one of the city's most beloved traditions, and a bargain to boot: adults cost only $4.50, seniors are $4 and kids 2–15 years old can ride for a mere $3.
Boston Marathon: Speaking of tradition, the world's oldest annually run marathon brings its 127th edition to the venerable 26.2-mile course from Hopkinton to the Hub's Copley Square on April 17. Thousands of fans are expected to line the streets to cheer on elite runners and amateurs alike, from the start line to the infamous "Scream Tunnel" at Wellesley College to the home stretch in the Back Bay. The aforementioned Sox get in on the action with their early game that day at 11:10 a.m. against the Los Angeles Angels, the conclusion of which sends sports fans streaming into Kenmore Square just in time to witness the top runners pass by.
Art in Bloom: The Museum of Fine Arts' yearly tribute to the season sees its galleries come alive with expertly arranged bouquets that artfully complement the masterpieces housed on its walls and pedestals. From April 28–30, enjoy flower arrangements alongside 45 of the institution's iconic works, as well as a floral arranging class on April 29 at 10:30 a.m. and 2 p.m. with master floral designer Jimmy Guzman, who also hosts a lecture and demonstration April 30 from 1–3 p.m.
Commonwealth Avenue Magnolia Blossoms: The ever-so-brief phenomenon of these billowy blooms, which adorn dozens of Back Bay trees that have lined a good stretch of one of the city's most magnificent boulevards since the mid-1960s, is certainly a sight to behold. Catch them while you can as the pink-and-white flowers hit their peak in early April.