High 5: Boston By Water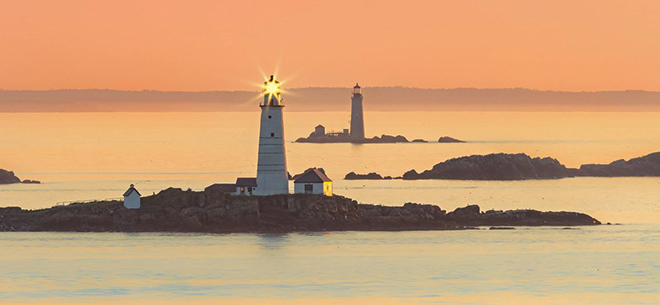 Photo: National Park Service/Jonathan Elcock
Take to the high seas this summer to get a water's-eye view of the Hub and its surroundings
Sightseeing: Whether on the Charles River or historic Boston Harbor, there are plenty of gorgeous views and fascinating stories to take in. Start with an excursion to the Boston Harbor Islands, including regular ferries from Long Wharf to Georges Island and Lighthouse Tours (pictured) on Saturdays and select Fridays. Beginning July 22, gaze upon the heavens, including various constellations and the Perseids meteor showers, on a night-time Sea the Stars Cruise with experts from the Museum of Science. Boston By Foot (BBF) hosts the Boston Society for Architecture Foundation and Charles Riverboat Company's informative and fascinating Architecture Cruise that embarks from Cambridge onto the Charles River and beyond every weekend. BBF is also involved with the A Sail Through Time historic cruises on Boston Harbor on the Liberty Fleet's schooner Liberty Star every other Sunday beginning July 23.
Whale Watching: Stretch farther afield on the New England Aquarium's adventures to Stellwagen Bank, where cetaceans sup in the area's rich waters. Boston Harbor City Cruises' high-speed ship departs several times daily from Long Wharf with an Aquarium naturalist for a date with a variety of marine life. Admission to the Aquarium is also included with the ticket.
Dining Cruises: Dine in elegance on the water courtesy of several of Boston Harbor City Cruises' vessels. Choose from the larger Odyssey and Spirit of Boston, or admire the sights and a fine meal on more intimate private yachts like the Boston Elite and Seaport Elite. Go down to Rowes Wharf for Classic Harbor Line's Saturday and Sunday Brunch Cruise aboard the vintage-style yacht Northern Lights.
Sunset Cruises: On August 13, savor a Sunset Jazz Cruise aboard Classic Harbor Line's Northern Lights, or set out on a more regularly scheduled twilight trip on the Northern Lights or the schooner Adirondack III. Massachusetts Bay Lines has a Boston Harbor Sunset Cruise out of Rowes Wharf nearly every night, as well as a pet-friendly Dawgy Dance Pawty Sunset Cruise on July 19 and August 30, where you can dance the night away with your pooch. Liberty Fleet's tall ship Liberty Clipper is ideal for scenic sails, including the Boston Harbor Sunset Cruise on most evenings throughout the summer, as well as the special Saturday night Cocktail, Rum & City Lights Cruise.
Self-Powered Fun: Take a more hands-on approach to getting out on the waves via a kayak, stand-up paddleboard, paddleboat or canoe rental from one of Paddle Boston's Charles River or Mystic River locations. It even offers guided kayak tours on the Charles River or Boston Harbor out of the Kendall Square outpost. The longtime sailing non-profit Community Boating on the Charles River Esplanade offers two-hour keelboat rentals to experienced non-members. Kayaks and stand-up paddleboards are also available.