High 5: Halloween Happenings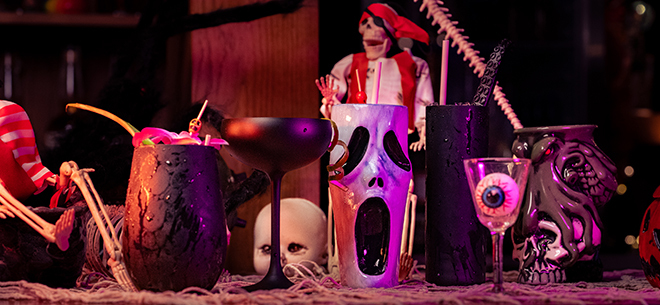 Experience spirited seasonal fun at these colorful events
Scare Leave at Shore Leave (picture): The South End tiki-inspired hot spot transforms into a "spooky speakeasy" for the rest of October, featuring Halloween decorations—think spider webs and lots of bats—and seasonal cocktails chock full of pumpkin spice and other fall flavors.
Fall-o-ween Children's Festival: This third annual festival comes to the Boston Common Frog Pond October 20 from 5–8 p.m. Spearheaded by Boston Mayor Michelle Wu and the Parks and Recreation Department, this fun evening is highlighted by signature activities like the Fun House Maze, Spooky Mansion and Jumpin' Pumpkin, along with plenty of games, arts and crafts, music and giveaways, so get the kids dressed in their costumes for this Halloween treat they won't soon forget.
Boo at the Zoo and Zoo Howl: Zoo New England's two facilities continue their traditions of all-day, family-friendly Halloween extravaganzas with two weekends of revelry. First up is the suburban Stone Zoo's Boo at the Zoo October 21 & 22, while the following weekend of October 28 & 29, Boston's Franklin Park Zoo resurrects its Zoo Howl. Both shindigs offer trick-or-treating, costume contests, animal encounters, tasty fall treats and more.
ICA Halloween Ball: A Surreal Soiree: The Seaport's Institute of Contemporary Art (ICA) hosts a slew of events for both kids and adults the final weekend of October, including this 21+ party on October 28 from 8 p.m.–midnight that boasts art, dance, music and performances throughout the evening, as well as prizes for the most creative costumes as judged by host and legendary drag artist Saint.
Halloween Horror Marathon: Brookline's beloved Coolidge Corner Theatre puts on its 22nd 12-hour extravaganza, which kicks off October 28 at 11:30 p.m. with a screening of Rosemary's Baby. If you're up for a bit more atmosphere, check out the Coolidge-sponsored outdoor showing of two films from the Friday the 13th franchise on, you guessed it, Friday, October 13 beginning at 8 p.m. at Rocky Woods in Medfield.