Boston Accent: Home Grown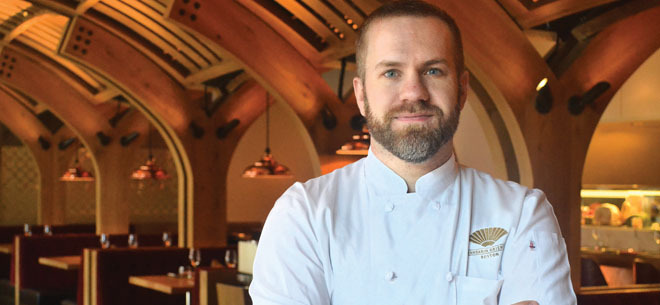 Growing up in Shrewsbury, Mass., eating freshly harvested tomatoes and zucchini from his great uncle's and grandparents' garden along with fish caught on family fishing trips, Chef Jonathan Kilroy always loved everything to do with food. Pursuing a career as a chef was a natural choice after high school, Kilroy explains, since food "was just something involved in all aspects of growing up.…That was what I wanted to do from the start." Now, after cooking at Café Boulud in New York City, Chef Kilroy is back in Boston, ready to bring his own sense of flavor to the Back Bay's Bar Boulud at the Mandarin Oriental on Boylston Street as the new chef de cuisine.
"It is a homecoming," says Kilroy. "I worked here for a number of years with Ken Oringer [Clio at the Eliot Hotel] and Lydia Shire [Scampo at the Liberty Hotel], so it is nice to be back home." Kilroy has been at Bar Boulud since mid-October, and is excited to direct some seasonal changes for winter. "Being in New England, I'd love to bring all this seafood that I grew up with into the restaurant in a more inventive fashion." Indeed, if you find yourself at Bar Boulud on Christmas day or New Year's Eve, you'll discover delectable seafood dishes alongside Bar Boulud's signature bistro fare on the special prix fixe menus. Winter is bay scallop season, which delights Chef Kilroy, whose mother made a tradition of treating him to steamer clams or bay scallops on his birthday.
Trained mainly in French restaurant techniques, Kilroy's style of cuisine has French roots, though he also enjoys the natural flavors of Spanish cooking. At home after work, Kilroy will whip up a flatbread covered in a sauté of garlic, roasted peppers and onions, topped with fried egg—"There's not much better at 11:30 at night!" he explains. The pure enjoyment of a good meal is a driving force for Kilroy. As he begins to put his own creative stamp on Bar Boulud's menu and expand diners' culinary horizons, Kilroy explains that, ultimately, the most important part of his job is "feeding people a good dinner."