Arts On The Boston Harbor Isles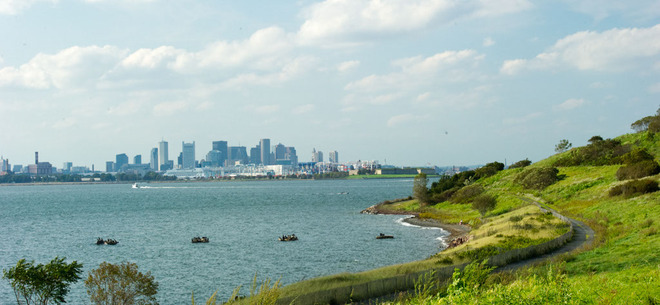 You may notice some new, vibrant additions to the Boston Harbor Islands this summer. Now through August 26th, The Isles Arts Initiative, a public art series on Georges and Spectacle islands capture the intrinsic beauty of the 34 harbor islands, creating an intersection between art and nature that is attracting art enthusiasts far and wide. The exhibit dubbed Cove flips the site of a once bustling military stronghold on Georges Island into an outdoor gallery. A select group of regional artists and collectives will create site‐responsive pieces inspired by the 41.3 acres of built and natural landscape.Through Seen/Unseen, Spectacle Island will transform into a space where spectators are invited to wander and roam unencumbered by rules and conventional structure; they tag along with an artist as they walk along the shore and then make a trek over to a musical performance at the top of a drumlin.
This weekly exhibition will veer visitors off their foreseeable paths and introduce them to a new awareness and appreciation of their natural surroundings. Back on land in SoWa, Boston Sculptors Gallery will procure projects by 34 artists, each responding to one of the 34 Boston harbor islands. These pieces include kinetic sculptures, prints, paintings and mixed media including wall texts next to each piece providing a brief history of each island.

These exhibits are free and open to the public. Bring your sunscreen, bottle of water and a sense of adventure! For more information on the art series head to: iai2015.greenovateboston.org/ or e-mail your questions to IslesArtsInitiative@gmail.com