A Peek at the Past: Blue Hills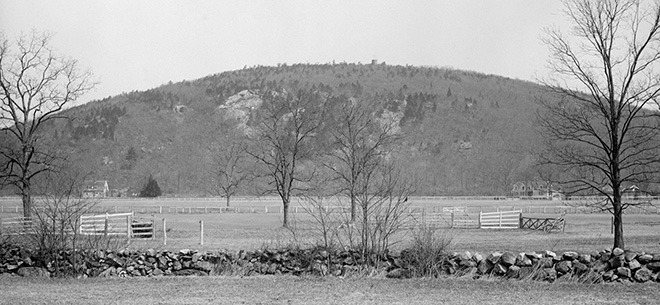 Courtesy of the Boston Public Library, Leslie Jones Collection, 1929
Spotted from the sea in 1614 by a historical figure more closely associated with the Jamestown settlement in Virginia than Massachusetts, the Blue Hills have been a significant landmark for centuries. Located just to the south of the city and spread across the towns of Milton, Quincy, Braintree, Canton, Randolph and Dedham, the 7,000-acre Blue Hills Reservation today encompasses ski slopes, fishing and swimming ponds, a 36-hole golf course designed by famed architect Donald Ross and miles of hiking and biking trails. Yet its history goes back to well before the area was occupied by the English.
Originally inhabited by members of the Massachusett ("people of the great hills" in Algonquian) tribe after whom the state was named, the hills were occupied going back about 10,000 years. One of the first Englishmen to observe the Blue Hills was none other than explorer John Smith, famed for helping found the first permanent English settlement in North America. While mapping the region for the English crown, he named the highest point of the area Massachusetts Mount, yet the 635-foot peak eventually took on the name the Great Blue Hill in reference to the bluish hue the granite-streaked eastern face took on as sailors approached the coast.
The area soon became inhabited by colonists, who created farms, built homes and took advantage of the hills' abundant natural resources. The Blue Hills' roots as a conservation area were formed in 1893, when the Metropolitan Parks Commission purchased the 22 hills and surrounding land, creating one of the state's first parks set aside for public recreation. Today, points of interest besides the aforementioned include the Mass Audubon-run Blue Hills Trailside Museum, which acts as a natural history museum and houses live animal displays featuring snowy owls and a river otter; the historic Blue Hill Observatory and Science Center, home to the oldest continuously operated weather station in the U.S.; several structures listed on the National Register of Historic Places, including Brookwood Farm, which boasts a circa 1690 barn; an ancient quarry dating back 7,000 years, one of 50 prehistoric sites; three ice skating rinks; and athletic fields.
As the highest land on the United States' Atlantic coast, the Blue Hills have long been sought out for their unparalleled views of the surrounding area. The Great Blue Hill even once had a beacon that was lit in honor of significant events, including the approval of the Declaration of Independence. Visitors, however, don't need such an excuse to explore this vast and pristine territory right in Boston's back yard. For more information, visit mass.gov/eea/agencies/dcr/massparks/region-south/blue-hills-reservation.html.