Boston's Ski Hub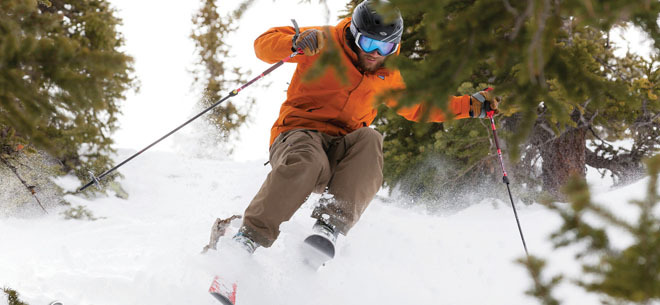 Boston is home to a large, dedicated cohort of New England skiers. Pete Endres, co-owner of Parlor Skis, knows this and is excited by how his custom ski company has entered this community, drawing many enthusiasts to the shop on Addison Street in East Boston. In fact, he often meets out-of-state visitors who make a special stop as they visit Boston en route to their ski destination.
Enjoyment is key at Parlor Skis. Endres explains that his friendship with co-owners Mark Wallace and Jason Epstein runs back 15 years to when they raced together on the Williams College ski team. After college, the three started making skis as a hobby in the basement of an old funeral parlor in Cambridge. "We enjoyed doing it, and did it in the funeral parlor for about four years before Parlor Skis was actually born as a company." Visitors to the current location experience the same relaxed atmosphere they would in a northern New England ski shop. Amid the woodworking machinery that has been modified to fit the specific needs of ski building, there is also an upstairs studio and space to sit on a couch and talk shop with fellow enthusiasts. Every other Wednesday during the winter, Parlor devotees can sign up for "Shop Nights," ski-building demonstrations in a relaxed atmosphere that includes beer and a Parlor shirt.
While ordering custom skis might seem an ambitious item to add to your Boston trip agenda, Parlor Skis is one of the most unique stops you can make while visiting the area, and Endres maintains that the process is easy and enjoyable. "All you have to know is a little bit about your own skiing and what you are interested in." One of Parlor's most popular models is the Cardinal, an all-mountain ski perfect for many resorts in New England. Yet specialty models are there for those who want them. As for Endres, he takes full advantage. "One of the beauties of owning a ski business is that I don't have to take just one pair of skis out to the mountain!" If you're jealous of that statement, perhaps it is time to visit Parlor Skis and learn firsthand how they can help you reach the peak of skiing bliss.
Photo: TruckieLoo PHotography