Get Outside Guide: Winter Wonderland
Panorama's guide to getting outside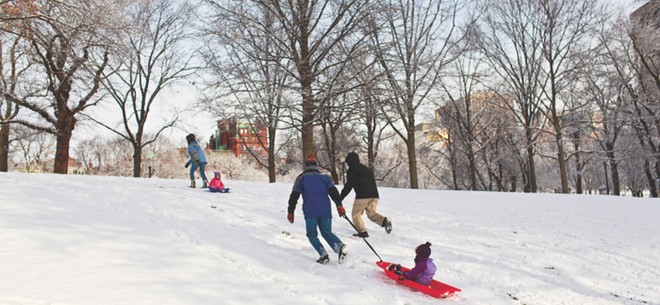 Mass. Office of Travel & Tourism
The seasonal affective disorder is kicking in, and all you want to do is hibernate until the ground thaws. While staying indoors has its perks, Boston in the wintertime offers its own advantages. So throw on those long johns, pull up your hood and get ready to have fun on the tundra—you may just find that it's the best cure for the winter blues.
Whether there's snow on the ground or it's just bitterly cold, ice skating is one of our favorite ways to get moving outside. The Frog Pond on Boston Common is the city's biggest and most popular rink, and also one of the most affordable—kids under 13 get in for free, while adults are only $5. If you're new to skating, lessons are available. Once you've worked up an appetite, treat yourself to a cup of cocoa from the Frog Pond Café.
Other rinks around the area are located at the Boston Harbor Hotel, the Jack Kirrane Skating Rink in Brookline, and the Charles Hotel and Kendall Square in Cambridge.
From the Arnold Arboretum to the Esplanade, Boston's parks have their own special appeal during the winter months thanks to decreased crowds and wide-open views. When there's snow on the ground, it's even more fun to explore by way of cross-country skis or snowshoes. Several local shops, such as REI and Boston Ski & Tennis, offer equipment rentals.
If you're in the mood for a drive, head out to Walden Pond in Concord or the deCordova Sculpture Park and Museum, which offers snowshoe tours of the grounds.
Fun-loving New Englanders know that sledding isn't just for kids, and luckily there are plenty of slippery slopes around the city just begging for a squealing ride on a sled, an inner tube or—in a pinch—a trash can lid. Flagstaff Hill in Boston Common offers sledding right in the heart of the city, while a quick ride on the Red Line will take you to the thrilling "Sugar Bowl," an inverted hill by Jamaica Pond. Brookline's Larz Anderson Park has both large and small hills, and the Corey Hill Outlook Park has a steep slope with views of the city.