Get fit in Lucy's Light Forest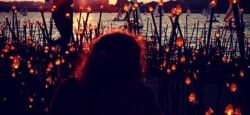 Lucy is not in the sky with diamonds. She's in the park with 10,000 LED lights. And she's doing yoga.

Just ask any fan of jam-band concerts and they'll tell you—light shows are fun. The visual cacophony of lights and sounds is enough to put even Judge Judy in a calm, transcendental mood. And now, women's active wear and clothing manufacturer Lucy is in the midst of a special 10-day event on the Charles River Esplanade that blends the light show experience with physical fitness.
Lucy's Light Forest is exactly what it sounds like. Just west of the Hatch Memorial Shell, the light forest consists of 10,000 LED lights squeezed into a 300-foot span of park next to the Charles River. Doesn't that just sound like a good place to do yoga? The light forest is open to anyone on their own time during park hours, but we're thinking that you should go during one of the free classes that are offered there throughout the day. Ranging in style and difficulty level, there are classes for everyone, whether you can bust out a feathered peacock or you can only do "the corpse."
The Light Forest wraps up on Sun. Oct. 13, so you only have a limited time to check it out. All events are BYOM (Bring Your Own Mat). Check out the list of remaining classes right
here
.