Oakleaf Cakes sets up shop in Fenway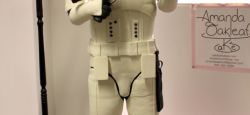 A couple of years ago in a galaxy not so far away, attendees of the Arisia Sci-Fi Convention in Boston devoured a 300-pound, six-foot-four Imperial Stormtrooper. The life-size soldier was the creation of Amanda and Tyler Oakleaf, and it was made entirely out of cake.
The duo has gotten national attention (Food Network, TLC, CNN) for their inspired cakes, but locals know that their more traditional offerings — like cookies, muffins, and cupcakes — are just as impressive. Many have made the trek to Winthrop to try their treats, but lucky for Boston fans, they've recently set up shop at 12 Westland Avenue in Fenway.

With the expanded space, Oakleaf Cakes will be able to offer more ready-to-purchase cakes and other desserts, while not relying so heavily on custom-ordered cakes. "We sell cupcakes and our cheesecakes are quite popular. We're probably going to do more of those," Tyler says.

But don't expect the move to shake up what they're known for, i.e. cakes that look so good they could win a Nobel Prize. Their cakes look so realistic that it's not surprising Amanda and a few of her staff members have degrees in art or sculpture. Tyler says it's a good business model. "It's easier to train artists in cake-making than to teach bakers how to be artists," he says.

While they focus on aesthetic quality—they say if you order a cake to look like your dog, it's going to look like your dog—they also know that the cakes actually have to taste good. One way they do this is by making all of their own ingredients from scratch, including things like gumpaste and buttercream. "We don't cheap out on ingredients," Tyler says. "We don't want people to just look at the cakes. We want them to eat them and enjoy them. Our cakes are not insanely processed sugar products, but light, fluffy, hand-crafted dessert food."

Besides cakes, you can buy cupcakes (including their popular cheesecake cupcakes) and "regular" cakes from their store at any time—they're open from noon to six Tuesday-Sunday. On their website they also have a list of cake-making classes you can sign up for, from "Basics of Buttercream" to "Intro to Gumpaste Figurines." Find out more at oakleafcakes.com or give them a call at 617-299-1504.