Bar Tab: Silly rabbit, these drinks are for adults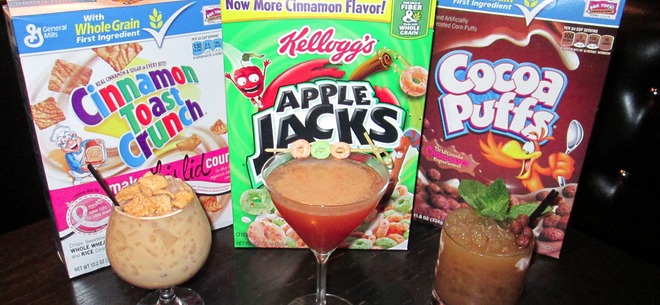 Sam Gabrielli, bar manager and "mixologist-extraordinaire," at Russell House Tavern in Cambridge, recently concocted some new cocktail creations that could be described as magically delicious. The cereal-infused brunch cocktails are certainly something that you won't see every day.

Drinks like the Cinnamon Toast Mudslide and the Cocoa Puff Smash have raised more than a few eyebrows around town. "Curiosity catches the attention, and the full-bodied flavors keep them coming back from more," Gabrielli says.
The idea itself sprang from a barback at the Tavern who tried making Cinnamon Toast Crunch-infused rum at home, which got Gabrielli to start thinking about using cereal-infused liquors in a more practical way at the bar. "As far as the selection process went, we brainstormed flavor ideas. Some cocktails were decided upon before the infusions—the Applejacks Rose and Golden Graham Manhattan. Others came to life after we played around with cocktails."
Russell House Tavern already has some serious stuff on their regular cocktail menu, and Gabrielli enjoys making "mixologist techniques" accessible in an unpretentious, high-volume atmosphere—i.e. homemade bitters, ginger beer, syrups, shrubs, gastriques, cordials—but also making classics how they are supposed to be made. "When creating cocktails for a menu, I try to make something that is going to appeal to a specific drinker, or at least something that gives a guest a great option to try," he says. "One would hope that if a guest gives permission to a bartender to surprise them, the bartender would be able to open them up to new products or techniques they may not have heard before."
Gabrielli's self-described bartending style, "high quality, fun ideas, without the pretension," fits right in with the whimsical idea of the cocktails, but he also saw them as a viable way to make brunch more fun and nostalgic. "On a larger scale, successful drinks are something that is enjoyed by a larger group of people, with a larger common denominator. Anyone would love to create the next Last Word, Bohemian, or Whiskey Smash, but the battle of successful cocktails is fought in many, many small skirmishes in bars all over the world."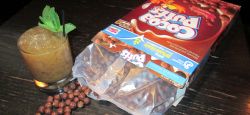 RECIPE: COCOA PUFF SMASH

Ingredients:
2 oz. Cocoa Puff-infused Green Chartreuse
½ oz. Tempus Fugit Crème de Cacao
3 Lemon wedges
6-8 Mint leaves

Method:
Muddle lemon and mint in a pint glass.
Add booze and shake with ice.
Double strain into crushed-ice-filled double old-fashioned glass.
Garnish elaborately with pretty mint sprig.
Giggle.