Bostonian of the Day: Tom Corbett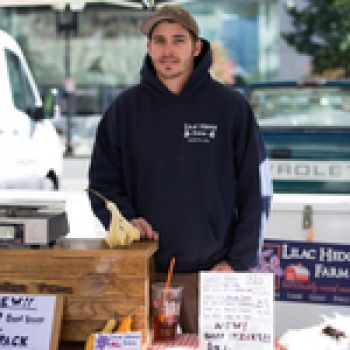 Margarita Polivtseva
Tom Corbett is from central Massachusetts, which is a completely different world from where we caught up with him—South Station. As co-owner of Lilac Hedge Farm, Tom sells fresh, locally grown meats at local farmer's markets.
How does one get into the farming business?
My business partner and I purchased a herd of sheep from the farm we used to work at, with the mindset of expanding and purchasing some pigs and cows and everything.
So you buy the animals, tend to them, raise them, then eventually sell the meat?
Yup. We also have a petting zoo that we run. So we own some llamas, an alpaca and a camel. We also have a type of miniature cow that only grows to be 34 inches to the top of his back.
And you don't eat the camel, right?
(Laughs.) No, we don't eat the camel.
Do you own a yak?
No yaks yet.
I hear yaks are tasty
. They are. It's true.

Are sheep tasty?
Sheep are very tasty. We started out with that first herd of sheep on about five acres about seven years ago and we moved to a 100-acre parcel the next town over and expanded the cow and pig operation a few years after that. And now recently we just moved to a 200-acre property.

Do you hate those big, industrial agriculture operations that the government subsidizes all the time?
No, I don't. That's the only way we're going to feed the world. But I think, though, that if the economy is ever going to grow, people have to start buying local.
Any grizzly bear meat?
No, can't say we sell grizzly bear meat. I think it's a promising market. We'll look into it. Photo by Margarita Polivtseva.