Navigating an 18th century cemetery? There's an app for that.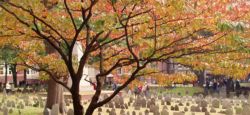 The American Revolution meets the digital revolution in a new app from the Freedom Trail Foundation. The Granary Top 100 app profiles 100 notable people interred at the Granary Burying Ground. It features original watercolor images and in-depth biographical information in the hopes of creating an enhanced, more participatory experience for visitors.
The two-acre cemetery is the third-oldest burying ground in Boston and is maintained by the City of Boston Parks and Recreation Department. But what makes the featured "residents" of Granary worthy of being selected to a top 100 list? "The new Granary Top 100 app introduces users to the vital Bostonians buried in one of Boston's most historic sites," said Suzanne Taylor, the Freedom Trail Foundation executive director, in a recent release. "Selected by the roles they played in the development of our nation and available historical data, the top 100 are goldsmiths and mechanics, politicians and painters, writers and preachers, slave dealers, ship owners, merchants, soldiers, and three signers of the Declaration of Independence."
The app was designed by Boston-based TapWalk and is the Foundation's second foray into the field of phone apps, the first being the Official Freedom Trail app. The Freedom Trail Foundation's Granary Top 100 is available on iTunes and Android Marketplace for $1.99.
Place:
Tremont Street next to Park Street Church, Boston, MA
Map This Venue