Michele Topor wants you to eat like a North Ender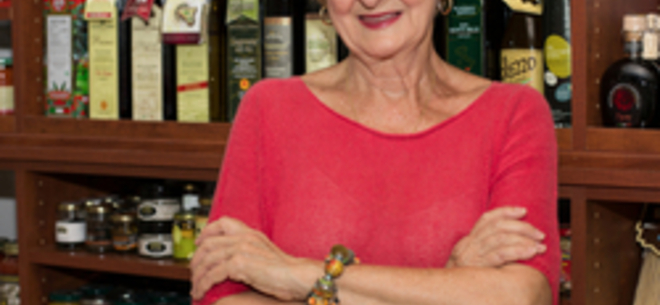 Boston's North End has changed significantly since Michele Topor moved there in the 1970s. Before the Big Dig, it was a much quieter neighborhood, nowhere near as populated as it is today. "It's certainly becoming a more gentrified area, much more a destination area for people," she says, "whether they're coming in to enjoy the multitude of Italian restaurants or getting a feel for shopping the way people do in Italy."
And that's something that hasn't changed about the North End—it's a neighborhood that revolves around food. Italian food, if we're being specific. As the owner of Boston Food Tours, Topor has been at the center of that scene since 1994. Boston Food Tours began as an offshoot of Topor's popular Italian cooking classes. "People always wanted to know where I got the wonderful ingredients I brought to class," she says. "That's when I started to introduce people to small specialty food shops carrying very genuine Italian food ingredients."

Her North End Market Tours guide guests to some of the neighborhood's most authentic spots beyond Hanover Street, like Depasquale's Pasta, Maria's Pastry Shop, Monica's Mercato, and Polcari's Coffee. She teaches how to shop like an Italian, offering tastes, history lessons and factoids along the way. For instance, she explains that 50 percent of the olive oil in the world market doesn't even contain olives. She'll help you understand what it should taste like and how to buy it and store it.

"My goal is to introduce people to an old-world food culture, and also a very healthy food culture," Topor says. "People are becoming more in tuned to what they're eating, the Mediterranean diet in particular, as they ate it years ago. We try to get people to understand the diet as it evolved.

No matter how many tourists flood Hanover Street on a quest for the perfect cannoli, the North End still retains that friendly, old-world neighborhood feeling. "It's not just shopping, it's socializing," Topor says. "Shops are very small, so you can chat your way through the neighborhood…You get to meet wonderful proprietors and get an insider's view of the neighborhood."

Book your North End Market Tour at bostonfoodtours.com. Call 617-523-6032 for more details.