High Five: Pastries of the North End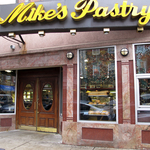 Craving an Italian confection? You'll find no shortage of sweets in Boston's historic North End, where family-run bakeries have been serving up authentic pastries for generations.

Cannoli at Maria's Pastry Shop
. The North End bakeries always seem to be fighting for the right to claim their cannoli as the best in Boston, and truthfully, it's hard to wrong with any of them. Maria's specializes in crunch fried dough shells that are filled-to-order with traditional sweetened ricotta cheese or chocolate or vanilla cream. Topped with a dusting of powdered sugar, these treats are truly synonymous with the North End.
Torrone at Modern Pastry Shop
. This classic Italian nougat candy is typically enjoyed around the holidays, but it's just as tasty year-round. Modern offers a handful of varieties, including classic white torrone (made with honey, sugar, egg whites and nuts), cappuccino torrone (dipped in a blend of milk chocolate and espresso beans) and caramel torrone (caramel surrounded by white torrone enrobed in a semi-sweet chocolate).
La Sfogliatella at Mike's Pastry
. Known as a "lobster tail" to English speakers, this historic delicacy dates back to the 16th-century Amalfi Coast. The layered, crusty baked pastry is filled with white or yellow cream, and Mike's offers a cake version as well.
Biscotti at Parziale Italian Bakery
. Skip the lines at the better-known bakeries and head off the beaten path to this North End mainstay. The Parziale family came to America from Napoli in 1907, introducing Boston diners to pizza. You can still order pizza by the slice here, or for something a bit sweeter, try one of their many varieties of biscotti, including almond, anise or cinnamon raison with walnuts.
Tiramisu at Bova's Bakery
. A Boston tradition since 1926, this award-winning bakery offers everything from bread to pastries to prepared foods. The Phantom Gourmet voted the bakery's tiramisu the best in the country, and luckily you can enjoy its creamy, mascarpone-filled decadence anytime you feel like it—Bova's is open 24 hours a day, seven days a week.