Ask a Concierge: Daymeyn Gantt of The Langham, Boston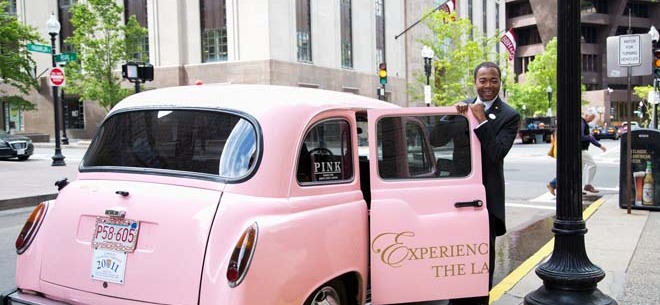 Photo: Margartia Politseva
The Langham Hotel, Boston is your ticket to the lap of luxury in the heart of the Financial District, and is also where concierge Daymeyn Gantt brings his brilliant talents to light. Daymeyn gives guest's the dish on the beauty of walking along Harvard Bridge, the VIP treatment, and how to make the most of a day on the town.
How long have you been working at The Langham? What brought you to that hotel and Boston in general?
I have been a Boston concierge for two years, and I have been with The Langham, Boston, for four fantastic months. In the realm of what and why...I was seeking city life and opportunity, after a small excursion abroad, to further myself as a hospitality and marketing professional. Boston, with its hospitality/biotech/education industries and history, seemed like the best place for my growth. The Langham, Boston has such prestige associated with the staff and property; I believed I could use my skills to maintain the brilliant reputation of The Langham, Boston's Concierge Team.
What do you think sets your hotel apart from others in the city?
The Langham, Boston is different from other city hotels as it embodies the essence of Boston...classic, historic, scenic, and luxurious. We are a team with one dream to offer service that our guests will bank on. Not only do we look at every guest as a VIP but, whilst staying at The Langham, Boston, we want them to feel like royalty.
Say a guest has only one day to explore. What's your advice?
My first answer would be "see one of my colleagues at the Front Desk and extend your stay with us!" Though my true answer would advise my guests to put on a pair of comfortable trainers, see the view of Boston from Bunker Hill; take a walk through the North End and have lunch at Bricco or Limoncello; travel through the Boston Commons & Gardens towards the Prudential for another great view of Boston; take a tour of Fenway; then end your day with a walk and dinner along Boston Harbor at Sea Grille or Del Frisco's before returning to The Langham, Boston.
Photo: Margartia Politseva
What are some of the most common requests you get from guests? Have you had any strange or memorable requests over the years?
"Where should I eat?"; "What should I do with a couple of spare hours?"; "Where could I propose to my girlfriend?" tend to be some of the common questions coming from guests during my tenure as a concierge. With so many great eateries in our immediate area it is sometimes hard to pick just one. If one would like steak, we have The Palm or Umbria; a great place for kids, we have City Landing or the Barking Crab; an amazing burger, we have Trade or Merchant; a lounge or great place for cocktails, we have Bond or Drink, all within seven minutes of conversation. For the answer on proposals, I will say, "See your local concierge for more." I must keep some trade secrets.
I have one very memorable request to share. Let me start with one of the most memorable: A guest at a neighboring hotel's proposal plans needed quick alterations due to inclement weather and I was all too happy to help. But, the caveat was we needed a venue that would play "Crazy for You" by Adele, which was the couple's favorite song at the special moment. I rushed to arrange dinner at Bond and a surprise set of cocktails at The Reserve, where our talented jazz pianist Mihoko was available to play the couple's song. (I must also mention she learned the song after listening to it for a couple of minutes.) Though I was unable to witness the proposal, I am happy to report the proposal was a success!
When you're not working, what do you like to do in Boston?
As most Concierges, my activities off the clock vary. Dinner gatherings with my mates in house or at favorites like The Foundry or Russell House Tavern, people watching in Davis Square (Somerville) mostly at Diesel Café, or the South End at Copa or The Franklin for new outfit ideas; writing; singing; stroll/bike/drive around anyplace with greenery like the Emerald Necklace; or sometimes at home watching Game of Thrones or Californication.
And lastly, what's your favorite thing about this city?
Imagine running, biking, or walking across the Harvard Bridge: the complementing views of the Charles River, and blending brownstones and skyscrapers of Back Bay. That is my favorite thing about this city.