Guide to Boston's Ghost Tours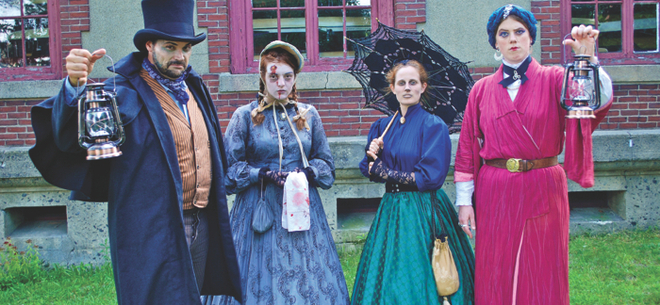 Boston is home to plenty of ghastly stories, from the accidental uncovering of a mass grave full of de-limbed British Redcoats to the not-so-distant-memory of the Boston Strangler. Here's a roundup of our favorite ways to get the lowdown on Boston's sinister side.
Possibly the biggest name in the Boston "Spook Business," the
Ghosts and Gravestones
tour boasts trolleys and some on-foot adventures lasting about an hour and a half. Tours are guided by a cast of characters ranging from a cursed privateer to a pyromaniac circus leader to a homicidal opera diva, so you can take the tour multiple times and have completely different experiences. Ghosts and Gravestones has exclusive nighttime access to the famed Granary Burying Ground where John Hancock, Paul Revere and Samuel Adams are buried.
Reservations required. 617-269-3626. $40, $25/children. Online discounts available.
Follow
Haunted Boston
's guides on a 90-minute walking tour through Boston and uncover chilling ghost stories, legends and true historical facts. Nighttime tours will bring you to the site of the long-gone "Great Elm Tree" of Boston Common where many thieves, "witches" and British soldiers met a grisly end by hanging. The tour leaves at 8 p.m. at the entrance of the Central Burying Ground Cemetery in Boston Common.
800-979-3370
.
$18, $15/seniors, $13/youth. Check the website to download a $3 coupon.
Boston Night Tours
is known for its extremely knowledgeable guides who deliver a cornucopia of ghoulish information in a fun and entertaining way. Tours run Thursday-Monday nights, leaving Faneuil Hall at 8 p.m. This walking tour sometimes lasts up to two hours, so you definitely get your money's worth.
978-741-1170. $15.

The Haunted Ship at the USS Salem
is a floating house of horror in Quincy. Inside this 717-foot naval ship you'll find deranged sailors, smoke
-
filled rooms, and a big dose of the macabre. Not for little kids or the faint of heart. There's also an accompanying ghost tour if you think you have the guts. The boat has seen live combat training missions in the 1950s and was featured in Hollywood films and an episode of
Ghost Hunters
.
617-479-7900. $15, $10/children 11 and under
.
The
Boston Ghost Cruise
recreates the stories of actual haunted sites in Boston Harbor from the perspective of historic characters played by professional actors. This unique cruise leaves from Long Wharf between State Street and Atlantic Avenue.
1-800-697-CLUE.
Find out which Harvard Square church is home to a ghost of a fallen Redcoat and which Ivy League hall is Harvard Yard's most haunted at the
Harvard Square Ghost Tour
. A 90-minute walking tour that leaves precisely at 7 p.m. will enlighten you to Harvard Square's not-so-shiny past, uncovering true tales of murder and paranormal activities. If you don't know what the Nightmare on Kirkland Street is, then this tour is for you. Due to high demand, another tour has been added that leaves at 7:30 p.m. through Halloween.
617-505-9866. $15, $10/students and seniors.