Bar Tab: Up all night to get Lucky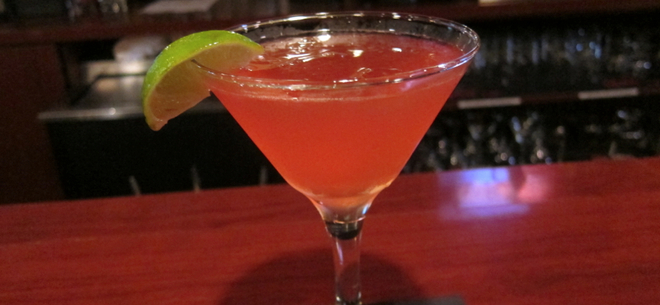 Walking into
Lucky's Lounge
is like stepping back in time. With its dim lighting and Rat Pack vibe, the bar is a favorite stop in Fort Point — but first you've got to find the place. There's no sign marking Lucky's on the street, so just direct yourself to 355 Congress St. right where it intersects with A Street.
We stopped by on a recent afternoon to try one of their signature cocktails. Jess the Bartender, nursing an injured wrist (bartending can get pretty hairy sometimes), guided us through the cocktail menu. We decided to go with the Fire Cracker, touted as a "Lucky's favorite."
Don't let this coral-colored cocktail fool you. It may give off the appearance of fruity tameness, but it packs a spicy punch. The fruity flavor is the cavalry, and only comes in after the hyper-tanginess of the habañero mixing syrup goes away. The result is a blended experience straight out of a Katy Perry song, first hot and then cold. In retrospect, with a name like the Fire Cracker, we should have seen it coming.
If you want to spice up your cocktail life, it's a simple enough recipe so you can easily recreate Lucky's Fire Cracker experience.
INGREDIENTS
A splash of habañero mixing syrup (available at most fine liquor outlets or specialty drink shops)
A splash of fresh lime juice
Grapefruit-flavored vodka
Cranberry juice (to add flavor but also to provide a "cooling" element)
Combine in a cocktail shaker and shake until all the ingredients blend together. Then pour into a deliciously cooled cocktail glass. Add ice as preferred. (Considering you're dealing with habañero flavoring, we suggest ice.)
Stop by Lucky's to try more of their specialty cocktails, and be sure to check out their Sinatra Sundays.