Ten Seasonal Spirits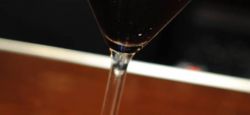 Baby, it's cold outside, and we've got the cure: Ten seasonal cocktails that will warm you right up. Here's what some of our favorite bartenders are pouring this winter.
Lucca
, a contemporary Italian restaurant with locations in the Back Bay and North End, is serving a
Mole Manhattan
made with Bulleit Rye, Godiva liqueur, and Bitterman's Xocolatl Mole bitters. Be sure to take advantage of the Back Bay spot's dollar snack menu at the bar weekdays until 7 p.m.
City Bar
's Waterfront location has created a dessert-nightcap hybrid with the
Starry Night
, made of Patron XO Café, vanilla vodka, and a salted caramel rim (pictured).
Eastern Standard
's cocktail menu boasts a section specifically for cold-weather drinks, including a classic Hot Buttered Rum. For something new, try the
Apple Butter Toddy
, a blend of Vida Mezcal, house-made apple butter bitters, winter space, and salt.
The name says it all with
Park
's
Fireside Poet
cocktail, a potent mix of Corner Creek Bourbon, Creole Shrubb, Santa Maria al Monte, Marasche syrup, and whiskey-barrel-aged syrup.
The new kid on the cocktail bar block,
Highball Lounge
's lead bartender Shaher Misif is serving up the
Winter Ginger Julep
. It's made from Woodford Reserve bourbon, hot mint tea, and ginger cordial.
At the
Hawthorne
, bartender Katie Emmerson is the brains behind
The Garland
: Brugal extra dry rum, cranberry syrup, sherry, an egg, and grated nutmeg.
Newly opened in the former Nebo space,
Ward 8
is serving a classic
Rye Flip
, a smooth blend of rye whiskey, cream, egg, and sugar.
Finch at the Boxer
is offering the
Ebenezer
, a Scroogerific drink with gin, Aperol, smoked bitters, and clove syrup. And for something sweeter, their
White Winter
has Stoli Vanil, Godiva chocolate liqueur, steamed whole milk, and a cinnamon stick.
In the mood for something more innocent? Head to the
Revere Hotel
every Friday through December 27 for a special
Hot Chocolate Pop-Up Shop
. The events will feature fun twists on hot chocolate from some of Boston's best chefs, such as Brian Poe's Black Lava Salted Caramel with Maple Candied Pecans & Cinnamon Whipped Cream.