Ice, Ice Baby: Where to Skate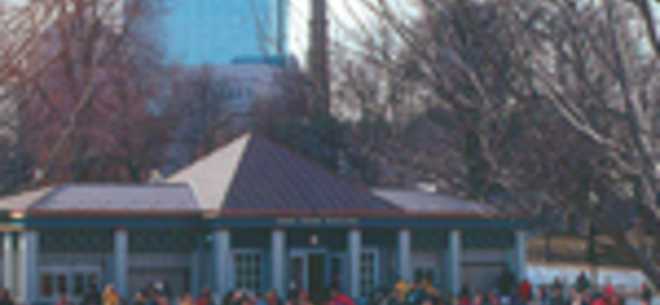 Unless you're a hockey player or a figure skater, chances are you don't get around ice rinks often, making it all the more exciting when outdoor rinks begin to open around the city. Bundle up, grab a warm beverage, and head outside to get your skate on at one of these local rinks.
Frog Pond
. By far the most recognizable of Boston's outdoor skating rinks, this quaint sheet of ice in Boston Common has found its place in many families' holiday traditions.
Open daily. $5, free/children under 13. Boston Common, 617-635-2120.
Charles Hotel, Harvard Square.
Located in front of the swanky Charles Hotel, this 2,900-square-foot rink is located where the tiki bar used to be in the summer. It's perfect for those in the suburbs who want to partake in city skating but can't—or won't—make the trek to a spot closer downtown.
Open daily. $5, $3/children under 12, $10/family. 1 Bennett St., Cambridge, 617-864-1200.
Kendall Square
. Right off the Red Line, this ice rink offers one-day admission and season passes and is in the heart of Cambridge off of Third Street.
Open daily. $5, $3/students & seniors, $1/children under 13. 300 Athenaeum St., Cambridge, 617-492-0941.

Boston Harbor Hotel
. This winter will be the first time that the Boston Harbor Hotel on Rowes Wharf will offer public skating. The intimate rink is positioned under the hotel's grand rotunda with a breathtaking view of the water.
Open daily. $10, $5/children. 70 Rowes Wharf, 617-439-7000.