Laugh Boston: "This isn't the Field of Dreams. This Is Comedy."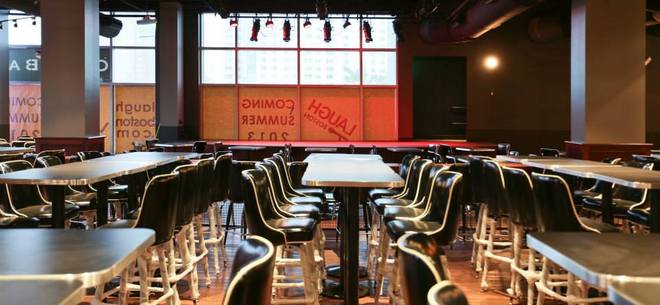 To a comedy club owner, a funny joke is serious business. That's one of the many things we learned about the "funny business" as we caught up with Norm Laviolette, one of the owners of the new comedy club
Laugh Boston
, on the eve of its grand opening.
The 300-seat venue at 425 Summer Street in the Seaport neighborhood is sure to be a new favorite spot to catch a comedy show in Boston. "We could have built just a club," Laviolette says, "but we wanted to do something just a little bit nicer."
With a full bar and a wait staff, Laugh Boston certainly has the feel of a cross between an upscale restaurant and a cocktail lounge. "It's not some seedy dive club in the basement of a restaurant, or something that turns into a sumo-wrestling techno club after 11 p.m. once the show is done," he adds. "This is a comedy club done nice."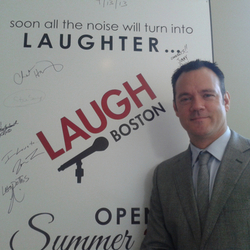 Laviolette and his partner Chet Harding also run the Improv Asylum on Hanover Street. They both come from a performing background and designed their new club with the performer's experience in mind. "We wanted this to be a comedian's club," Laviolette says. "We want the performers to be a part of our business model. When they play our club, we want them to go, 'Oh yeah, they're taking care of me.'"
Besides offering a fairly sizable audience, the club also provides its own green room for the performer as well as a bathroom that comes with its own private shower. "I know whenever I played at a place that had a shower for the performer I was like, 'Whoa, no way, a shower. I mean, I never once used one," Laviolette adds, laughing."But still … It's things like that that will stand out in a traveling performer's memory. The fact that they can prepare for a show in a green room and not, say, the kitchen with the wait staff saying, 'Uh, can you get out of our way.' It makes a big difference. Hopefully they'll get back to New York or Los Angeles and say, 'If you play Boston, you have to play at Laugh.'"
There are other things that make this comedy club performer-friendly. The bar and showroom are separated by a wall with an open window but with glass dividers that can be drawn down to eliminate some of the periphery noise coming from the bar. "It makes the performer happy by allowing for a quieter, more pristine performing environment, and it makes the audience happier, because they end up getting a better show because of it," he explains.
Laviolette and Harding have a third partner in Laugh Boston, John Tobin, who served on the Boston City Council for 10 years. He was also a talent booker at Nick's Comedy Stop. "Chet and I had business experience in the improv business scene but not much in the stand-up comedy business scene," Laviolette says. "John's got that covered, as well as when it came to getting permits and licenses, having somebody on your team who used to be in the City Council, it helped. We have a great partnership."
The trio has a pretty sound business model. Besides hosting comedy shows Wednesday through Saturday, they also picked a location right next to Boston's Convention Center. "So if any large business comes into town looking for a venue to rent, we're right here. That's another reason why we tried to make this place a little more upscale, because there's a way for us to have people in here spending money whether there's a show or not."
With recognizable names already on the schedule (Jimmy Shubert, Bobby Collins, Dom Irrera) and the local comedians buzzing about the opening, Laviolette is confident in Laugh Boston's future. "The Seaport is the fastest growing spot in the city. It's easy to get to, there are tons of parking lots—this is the place to be. We know that there are going to be nights in the beginning where we only sell 25 tickets. But those 25 people are going to see a great show. We have enough business sense to know that this type of thing takes time. This isn't the field of dreams; this is comedy."
The late George Burns had a saying about being a comedian: "The key to show business is honesty. So once you learn how to fake that you're in." Laviolette has his own motto when it comes to being a performer, one that he's harbored since he was starting out and living in an arm-width-sized pantry. "Just hold on," he says. "Hold on no matter what, because in the end everybody else either quits or dies."