British comedian Simon Amstell gets seriously funny at the Wilbur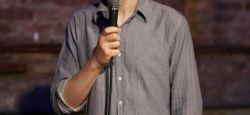 Though he's perhaps best known for his work in the U.K., Simon Amstell's U.S. fan base is growing quickly, and with good reason. The comedian offers a dark and self-deprecating mix of personal anecdotes, failings, and philosophical discussion that are at once relatable and shamelessly funny. We chatted with him at home in London as he was preparing to hop across the pond; see him at the Wilbur Theatre on April 19.
How did you get into comedy?
I was quite a peculiar 13-year-old child who decided he wanted to do stand-up comedy. The drama club that I belonged to said that would be okay, and put me in a show, and despite the fact that I think that I can't have been very funny, because I was a child who was trying to be an adult…I suppose that is quite funny, actually. When the audience laughed, I thought that that was the best of all the sounds I've heard so far, and I'd like to do more of that.
Tell me about your upcoming shows in the States.
I've been coming to the states for—wait, I never say the States—I've been popping over to America for a few years now, mainly New York and a bit of L.A., and then the last time I came, I did Chicago, Seattle, and San Francisco. Every time I come over, I add a few new places to where I go, and so I'm just slowly building some kind of new audience in America. I guess that's what I'm doing. It's partly ego and partly just the joy of performing to people who don't know who you are, which is quite fun. It's quite fun being new. There's something quite pure about the performance, when people who are looking at you as this new thing that has turned up, rather than somebody they are more familiar with, that they know from different TV shows, and other stand-up specials that they may have seen. It's quite nice to talk to people without them knowing who I am.
How would you describe your show to someone who hasn't seen it?
I think at the moment it seems to be about freedom. I think it's something to do with trying to liberate oneself from the constraints of the society that we are in and also our own insecurities, fears, and anxieties. I suppose it's, yeah, it's about freedom, and about the fact that we're alive now. We'll all be dead eventually but right now we are here, and you think that that knowledge, that death is coming, would thrust you into the now, would thrust you into being as completely present and free and adventurous as you could possibly be in the moment with another human being. However, there are your own fears that can stop that from occurring, so it's sort of about navigating all of that.
Do you enjoy taking on such heavy subjects and making them funny?
I don't think what I end up saying on the stage has anything much to do with me. I don't think I've chosen to be the kind of comedian that's talking about anything. The way that stuff comes usually is like I stand in front of a hundred people in a small room who have paid very little, because I want to feel as little pressure as possible to do something entertaining, and then I just sort of go in with a few pieces of paper with various things I might want to talk about, and I talk about them, and it's all kind of very personal and truthful. And the more truthful and personal and painful and awful it is, the funnier it seems to be, and so that just ends up being what the show is. But I don't think I'm in charge of it. I don't think it would be a very good show if I was in charge of what came out of my mouth, I think it would be a very safe, restrained, polite, arty show. It would be beautiful, it would be delightful. I'd want every sentence to be beautifully written. I think it's difficult to be funny and cool, or funny and beautiful.
What inspires you most?
Probably life. Other comedy is, I suppose, intimidating. It's just uninspiring and sort of puts me in a peculiar mood. The inspiring thing is when I'm in front of a seemingly traumatic situation that I can't get out of and don't know how I got into. Just trauma, and pain, and suffering. It's very difficult to make something funny out of something happy. It's very difficult to talk about being in a lovely relationship, or going to a nice party. There's not very much to be said about that. But there's a lot to be said about a traumatic relationship or a horrific relationship, or a party where you couldn't connect to anyone.