Marjorie Druker feeds the family at New England Soup Factory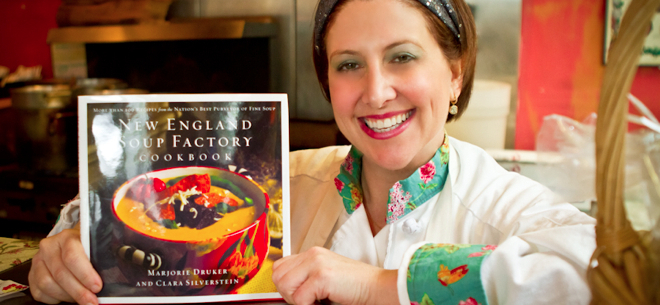 Marjorie Druker, the mind behind the New England Soup Factory and the newly established Modern Rotisserie, is bringing the joy of wholesome cooking to New England, one soup at a time. We recently sat down with her to talk soup.
How long have you been interested in food/the restaurant industry?
Thirty-plus years. I started when I was 17 [when] I got my first job in the food service industry. It was the fall of my senior year in high school, and I've been doing it ever since.
What has changed in the industry?
Some things have changed, and some things haven't changed. The way we eat is something that has changed. The choices that we make to put in our body, picking better foods, eating more fruits and vegetables, eating more organic foods. I think that there's a larger focus on people wanting higher quality food. Something that stays consistent—but they give it a new name every four or five years—is when I first opened my business in 1995. It was "don't eat bagels and all your muffins had to be fat free." And now I look back 20 years later and people aren't even eating bread, or want a sandwich done without the bread. It's just interesting to see certain trends come and go and to see one trend metamorphose into the same trend with a different name. Another trend is, I would say that in the past 30 years we've had a tremendous Latin influence in our food, Latin and Mediterranean.

What spurred you to start the Soup Factory?
At the time, I was 30 and I was at home with my daughter, and she was only 18 months old, but I catered parties for people and I was a private chef, because I could be a mom and take care of my child and have her with me, yet perform a job at the same time and be able to make somewhat of a living. It wasn't a great living, but it allowed me to pay for my groceries and help add to the family budget, so it was good to have. And then one night, my husband came home and in the middle of dinner, he said, "I bought you a restaurant today." ... He wound up making a deal with somebody that we had to pay this person and that person and pay off this guy's bankruptcy and that's how we got into the restaurant that we now call New England Soup Factory, 20 years later. Those first steps to own your own business came with very meager amounts of money, but a passion for making incredible soup.
What's it like working with family?
I love it, because we have the same common goal. We're a family of three, and a dog. It's my husband and I and our daughter, Emily, and Emily has worked there since she was 14 years old. And people always thought it was so unfair, all the other kids were taking dancing lessons and they're like, "Why didn't you sign Emily up for dancing lessons this year?" And I said, "Oh, no, she has an after school job, she pours salad dressing for me." And all the other mothers rolled their eyes. But ... I wanted to create an environment for my daughter, starting at a young age, that she would never think of work as work. That it was just a natural evolution of life, that you get up in the morning, you take a shower, you put yourself together, and you go to work. Each and every day. That you don't complain about it, that you're not disgusted by it, that you're enthusiastic about it, that you have ideas for it. So for me, I thought that those are the kinds of things that you can instill in a child that hopefully have longevity. Not everybody gets to be a ballerina, but if you can learn how to be a good worker, and know how to run a business, those are great skills to have.
Which achievement are you most proud of?
I've had many incredible things happen. I've written a cookbook, I opened up another concept, and raised a child throughout a whole time, and kept a healthy marriage, so those are my proud moments. But if I really had to choose what was the most important thing I did in all my years, it was the ability to take care of my father in the last year of his life, because I took care of him with my soup. And I would show up night and day, every day, with my soup. Not just for my father, but my sisters, and my mother, and the nurses, and the doctors, and we all ate soup together for a year. And I remember the day before my father died, I fed him a tiny bit, just a straw full of soup, and he said, "Oh God, that feels good." There's something spiritual about it. That's what makes me feel the best, that I could take care of my father with the products that I made and that I'm so passionate about.

Tell me about your Mother's Day special.
I'm all about family, so when I was growing up, we ate together as a family. As a family unit, that was the best time of the day. Dinner was so enjoyable. I lived in this house where you could discuss anything, whether it was good or bad, and there was always wonderful food, and it was healthy and wholesome. I love when families are together and are enjoying the pleasures of fabulous food, and are enjoying each other. Just having the nucleus of your family and sharing the meal together is pure joy in my book. And every Saturday in our restaurant, it's like family day. Me, my daughter, and my husband are working, and all the families come in. What I love about this Mother's Day package is that we have different ones based on what kind of mom you are.
Is there anything you'd like to add?
I guess I'll just say that what makes us different is that lots of places can sell prepared foods, and you can get them in grocery stores, but our fast casual concept is a chef-driven concept. So because I went to school to become a chef, it's my love and honor to be a chef. I want my food to not just provide food, it has to be really delicious.