Boston Weekender: St. Pat's Edition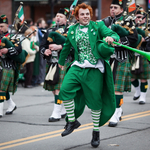 Boston didn't become known as America's most Irish city for nothing—and we've got a St. Patrick's Day celebration to prove it. Quite a few of them, in fact.

The big daddy of St. Paddy events is on Sun. March 16, when the famous
St. Patrick's Day Parade
will be held in South Boston. Close to a million people typically show up for the festive parade, which starts on West Broadway at 1 p.m. and ends on Dorchester Avenue.
The Boston-bred Irish punk band
Dropkick Murphys
are in town for a string of shows through Sunday at the House of Blues and Lansdowne Pub. Read our interview with lead singer Ken Casey
here
.
Besides their Dropkick Murphys show, the Lansdowne Pub is celebrating St. Patrick's Day all weekend long with live music, authentic Irish grub, and their massive beer selection.
Boston Children's Museum
is marking the holiday on Mon. March 17 from 11 a.m-3 p.m. At 11:30, the Boston Police Gaelic Column of Pipes and Drums will perform for the kids. Later that day, they can make green bubbles, four leaf clovers, and join in the St. Patrick's Day Parade at 2 p.m.
The
Cask N' Flagon
is serving a traditional Irish dinner with corned beef, cabbage, potatoes, and other typical Irish fare. The featured drink for the evening is the Irish Twist and Shout, mixed with Harpoon Irish stout, Svedka Vanilla vodka, and raspberry purée. At 2 p.m. on March 17, The Boston Piper's Society will play some traditional Irish music. Later in the night, DJ Carney Lansford will keep the revelers dancing.
Anna's Taqueria
is serving a special St. Patrick's Day burrito at all of their locations on Monday. It will feature the traditional corned beef and cabbage, with the option of spicing it up with Mexican additions like guacamole and pico de gallo. The special starts at noon at all locations and will only continue while supplies last.