Weekender: Return of the Red Sox
Boston's best events April 4–6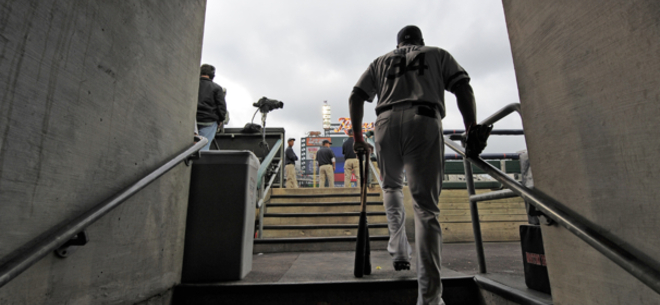 We're going to tempt fate and declare it officially spring in Boston. Restaurant patios are reopening, buds are sprouting and — best of all — the Red Sox have returned to town. Here are a handful of events you should check out this weekend.

First and foremost, the Olde Towne Team is here through Wednesday, so join the hordes at Fenway Park.

SoWa's First Friday Open Studios invites art-lovers to interact with more than 60 local artists as they showcase their work. The event takes place from 4–9 p.m. at 450 Harrison Avenue in the South End.

If you haven't gotten the opportunity to see Not By Bread Alone, this weekend is your last chance before it closes in Boston on Sunday. The show features 11 deaf-blind actors who bake bread in real time and share insightful and moving stories with the audience.

The Boston LGBT Film Festival continues through April 11. The festival, which spreads across the Brattle Theatre, Paramount Theatre, ICA, and the MFA, celebrates "queer cinema" — including LGBT feature-length films and shorts — most made in the past three years. Tickets and scheduling info can be found on their website.

Whose Line Is It Anyway? fans, this is your weekend. On Friday, Wayne Brady is coming to the Wilbur Theatre to perform two shows — and hopefully throw in a round of Song Styles with the audience for old time's sake. On Sunday, trek out to Lynn to see Whose Line vets Colin Mochrie and Brad Sherwood at the Lynn Auditorium. In other comedy news, see Jim Belushi and the Chicago Board of Comedy on Saturday at the Wilbur.

On the food side of things, American Provisions is celebrating Cinco de Abrile on Saturday with free beer samples and a Taco Party Pop-Up. Naga in Cambridge is hosting a Red Sox Home Opener Viewing Party Friday from 1–5 p.m. This free event offers up $5 snacks, $8 cocktails, $15 pitchers, and a chance to win two Red Sox tickets.

Head to the Boston Beer Summit this Saturday at the Park Plaza Castle for the chance to sample more than 200 different types of beer from 60-plus different breweries. Tickets are $50, and $10 of that will be donated toward the Pan Mass Challenge.