Bar Tab: Infused whiskeys at M.J. O'Connor's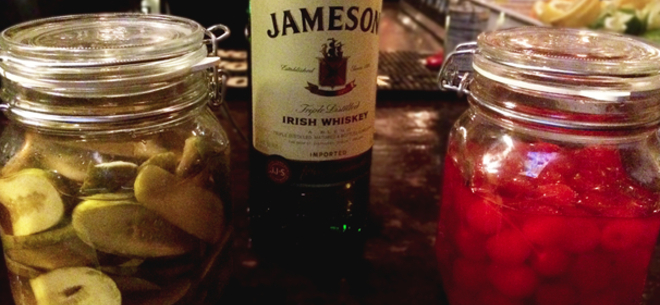 Between the Celtic music, the authentic décor, and the accented staff, M.J. O'Connor's in the Park Plaza Hotel corners the market on Irish pubs in downtown Boston. The bartenders are welcoming, friendly, and according to their manager, "convincing" — a helpful trait when their GM concocts a new drink recipe to test on trusting and loyal customers.
We recently met with manager Kathleen Carrigan to talk about the bar's new whiskey infusions. She welcomed us with four mason jars filled with whiskey and various flavorings — pears, bananas, cherries, and pickles.
The pickles, surprisingly, are where it all began. "A bar down the street had this idea of pickle-infused whiskey," she says. "Don't know how they came up with that one, but it was a hit, and Sean [Newell, the general manager] wanted to try it here."
She laughs when I bring up the famed tale of the accidental creation of the Reese's peanut butter cup. "That's exactly what I said. Did someone just accidentally spill pickle juice into a glass of whiskey … and then decide to drink it?" However bizarre it sounds, the pickle infusions became somewhat of a cult hit, spreading by word of mouth through the patronage of the bar. The bartenders would serve the infusions to particularly adventurous customers by way of a tasting shot.
From there, the infusions expanded to include cherries and bananas, and most recently, pears. "Our bartenders started calling the cherry infusion a 'Dirty Shirley,' like an adult Shirley Temple with whiskey," she says. "People have been wanting to eat the cherries, too, which worries me. You know those have been soaking in whiskey for two days, right?"
Admittedly, Kathleen has not tried her bar's whiskey infusions yet, calling herself a "whiskey purist." Instead, the infusions dull the typical burn of the whiskey and add an interesting flavor twist, one that might encourage those who are not fans of brown liquor to branch out.
Vodka infusions, of course, have been around for years, using anything from fresh fruit to candy like Skittles and Gummy Bears. But whiskey infusions have taken longer to catch on, Kathleen says, probably because of the number of people like her who enjoy drinking straight whiskey.
When asked about the future of whiskey infusions at M.J. O'Connor's, Kathleen mentions that a cinnamon infusion is in the works, and will hopefully be available before the cold weather leaves for the year.
If you want to make your own whiskey infusions at home, the recipe is simple: get a mason jar and fill it with the fruit of your choosing. Pour whiskey over it until the jar is full and let sit. The fruit will absorb some liquid over time and the liquid in the jar will decrease by a few inches. At this point, fill the jar to the brim once again, and let the infusion sit for at least a day or two. Strain into a shot glass and enjoy.