Peek at the Past: Arnold Arboretum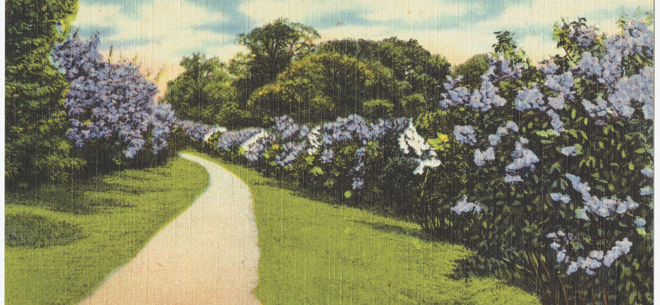 In the late 19th century, overcrowding and pollution in urban areas across the U.S. became a major problem for city dwellers. To combat the issue, green spaces were built so residents could escape the hustle and reconnect with nature. In New York, this meant the creation of Central Park. In Boston, a seven-mile-long stretch of greenery connected by parkways was constructed, which came to be known as the Emerald Necklace. The first, and arguably most important, jewel in the necklace is the Arnold Arboretum.
Founded in 1872, the Arnold Arboretum was the first public arboretum in North America, and is the second-biggest part of the Emerald Necklace after Franklin Park. The arboretum was named after James Arnold, who donated a portion of his estate to the promotion of horticultural improvements. This donation, combined with Benjamin Bussey's estate, created the plant sanctuary that resides in Jamaica Plain and Roslindale today.
Scientist Charles Sprague Sargent, who was appointed the first director of the arboretum, curated and noted the different species of trees, vines and shrubbery in the area, while Frederick Law Olmsted designed and implemented the road system and plant scheme to blend with the rest of the parks in the Emerald Necklace. Today, the plants within the arboretum are monitored and documented for research purposes. The landscape is maintained by Harvard University under a 1,000-year lease signed in 1882 between the university and the City of Boston, which maintains the infrastructure.
In 1911, the first issue of the park's quarterly magazine Arnoldia—then titled Bulletin of Popular Information—was published. To this day, the magazine covers ecology, conservation, landscape design and history. It also offers information on the growth and progress of the Arboretum itself, while occasionally profiling overlooked plants and flora.
In 1996, the 24-acre Bussey Brook Meadow was added to the grounds, bringing the number of acres in the arboretum to the current total of 281. Through these grounds, a handicap-accessible pathway was built for commuters traveling by public transportation to the Forest Hills stop. The pathway leads visitors to the South Street Gate of the Arnold Arboretum.
The mission of the Arnold Arboretum is to "increase knowledge of woody plants through research and to disseminate this knowledge through education." In keeping true to this mission, the arboretum hosts educational youth programs, lectures geared toward adult education, fellowships in curating and botany, and activities for visiting families. Harvard University also offers undergraduate and graduate programs that use the Arnold Arboretum as a classroom.
The grounds are open to the public 365 days a year from dawn until dusk. Take advantage of walking and bike trails this spring, as well as art exhibits and horticultural library. For more information, visit arboretum.harvard.edu.