A Peek at the Past: Parkman Bandstand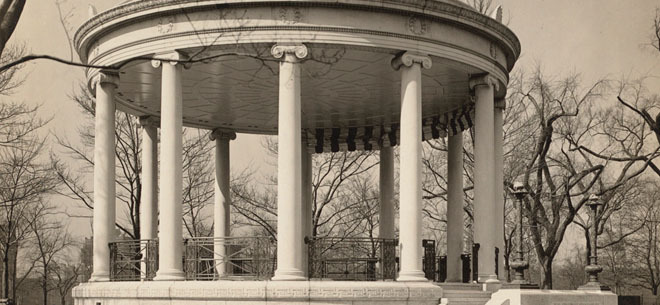 One of the most prominent landmarks on the nation's oldest public park, the Parkman Bandstand on Boston Common looks innocuous enough. The circular, Greek Revival-style edifice, erected in 1912, primarily serves as the backdrop for the Commonwealth Shakespeare Company's Free Shakespeare on the Common production every summer. But the family which lent its name to this simple structure hides a tragic history largely unknown to even the most historically minded locals.
This grisly tale begins with the disappearance of wealthy moneylender Dr. George Parkman in November of 1849. Nearly a week after Parkman's concerned family reported his absence, a janitor at Harvard Medical College in the West End made a gruesome discovery in a basement laboratory that explained why Parkman was missing: Harvard lecturer John Webster had murdered Parkman and dismembered and partially burned the corpse in an attempt to conceal his crime. Webster—who had racked up a substantial debt to Parkman—killed him when Parkman confronted him over payment. During the sensational trial that followed, forensic evidence—including a dental identification taken from a fragment of jawbone—was used for one of the first times in U.S. history to convict someone of murder.
Many years later, in 1908, when the son and last surviving heir of Dr. Parkman, George F. Parkman, passed away, the Parkman fortune was donated to the city, much of it earmarked for the upkeep of city parks, including Boston Common. This led to the bandstand being erected in the junior Parkman's honor on the former site of the Cow Pond, a watering hole for grazing cattle that had been filled in when that practice was banished in 1830. Fully restored in 1996, the bandstand has served as a platform for musical performances, protests and political speeches by everyone from mayors to presidents for more than a century, serving as a more pleasant reminder of the Parkman legacy.