Peek at the Past: Fenway Park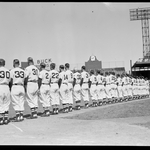 Fenway Park is one of the oldest and smallest baseball stadiums in America—and also one of its most beloved. Situated in the middle of a dense city block, the park has endured a lot over the years, including multiple fires, threats of demolition, and a near-century-long losing streak from its home team. Nevertheless, Red Sox fans consider it sacred—some even going so far as to spread family members' ashes on its grounds—and with a 100th anniversary under its belt and no end date in sight, Fenway seems poised to play on for generations to come.
In 1911, John I. Taylor, then-owner of the Red Sox, wanted to move the team out of the Huntington Avenue Grounds where they had been playing for years. He set his sights on the Fens neighborhood and purchased more than 365,000 square feet of land between Ipswich and Lansdowne Street. On April 20 of the following year, the Red Sox played their first official game in the new Fenway Park against the New York Highlanders—now known as Boston's rival New York Yankees.
In 1918, Babe Ruth helped the Red Sox win the World Series against the Chicago Cubs. The following year, he was traded to the Yankees, and the Red Sox were caught up in an 86-year losing streak known as the Curse of the Bambino.
In 1933, the Red Sox were bought by Tom Yawkey and the left wall of the field had its advertisements removed and was painted green, thereby creating the iconic Green Monster. The entrance to Fenway, previously called Jersey Street, was renamed Yawkey Way in memory of Tom Yawkey after he passed away in 1976. The following year, one red seat was installed to commemorate the longest home run hit at Fenway by Ted Williams in 1946. A statue of Williams was erected outside Gate B of the park in 2004.
In 1997, the Green Monster was made into a mascot by the name of Wally, eliciting mixed responses by Red Sox fans. Sports announcer and restaurant owner Jerry Remy warmed up the crowd to the fuzzy green character by creating a back story for him. In April of 2012, Wally was named the No. 5 Mascot in All of Sports by
Forbes
magazine.
Besides baseball, Fenway Park serves as a venue for everything from naturalization ceremonies to hockey games to concerts—including Neil Diamond, whose song "Sweet Caroline" has become a Red Sox anthem and is played during the eighth inning of every home game. It's been featured in movies like
Fever Pitch
,
The Town
and
Moneyball
.
Fenway Park celebrated its 100th anniversary with a large pregame party before a Red Sox/Yankees game on April 20, 2012. Both teams wore 1912 throwback jerseys to commemorate the occasion. And in 2013, the Sox made history by winning their first World Series at home in 95 years.