Where to watch the Red Sox win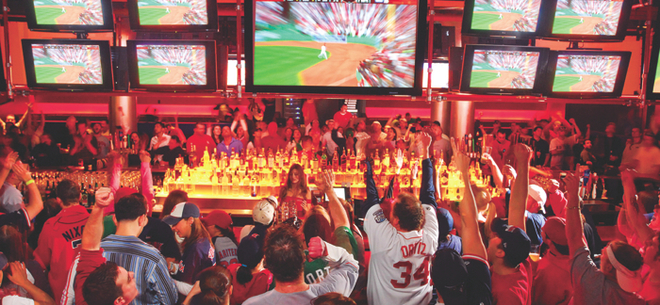 In case you haven't noticed, it's the World Series and the Red Sox are going Boston Strong, leading 3-2 against the St. Louis Cardinals. You may not be able to afford $10,000 tickets to watch the game at Fenway Park, but there are plenty of bars where you can get close enough to the action to enjoy that World Series fever tonight (Wed. Oct. 30) starting at 8:07 p.m.
Cask 'n Flagon
. Located right next to Fenway Park, Cask 'n Flagon boasts more than 20 taps pouring local favorites like Mayflower, Cisco, Berkshire, Long Trail, Wachusett, Shipyard, Sam Adams and Harpoon, along with more than 25 different beers from local breweries and around the world. Not to mention plenty of TVs to watch all the action.
Jerry Remy's Sports Bar and Grill
. Owned by a former Red Sox player and current commentator, this is another fan favorite thanks to its close proximity to Fenway and the ridiculous amount of high-def televisions, including two 6.5 x 11 foot "screen monsters." Enjoy 35 cent wings and dollar sliders from 4-9 p.m.
Game On!
The name says it all at this Fenway hotspot that boasts more than 90 HDTV screens dedicated to helping you view the game from every angle while you enjoy their classic Game On burger and a beer.
The Baseball Tavern
. Get to the tavern between 5:30 and 7:30 before the game to be eligible to win a pair of World Series tickets.
The Bleacher Bar
. A fairly recent addition to Fenway Park, the Bleacher Bar is situated underneath the bleachers in center field and has a wide, open window where patrons can watch the game. And no, you don't need a ticket to get in.
McGreevy's Boston
. Avoid Fenway madness by heading to McGreevy's on Boylston Street on game night. They have half-priced appetizers, 25 cent wings, and beer for days. The Irish pub also calls itself the "first sports bar" and is the self-proclaimed home to the Dropkick Murphys. Steeped in Red Sox history, the bar is the perfect place to be with fellow fans and compare beards as you eat spicy wings and shepherd's pie.
Champions
. If you want a more restaurant-like experience at a sports bar, this Back Bay spot is for you. There are more than 36 beers on tap and plenty of TVs to watch the game. Their all-American cuisine includes everything from sliders to apple cobbler.