Behind the Mask: David Ross
Red Sox catcher David Ross on beards, Twitter and bouncing back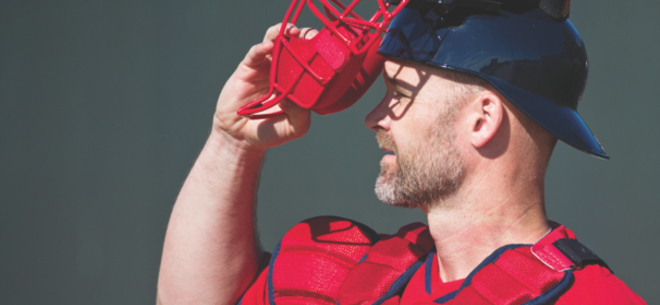 Photo by Michael Ivins
After suffering a severe concussion last season, Red Sox backup catcher David Ross was forced to take off two months, missing a total of 65 games. There were times when he wondered if he'd ever play again, but he returned to his spot behind the plate in August and ended up playing in four of the six World Series games— including the series clincher on October 30, 2013.
It was the first time the Red Sox have won the World Series at Fenway Park since 1918, and it's a moment Ross will never forget. "Being a backup and not being a starter, to be able to play in the playoffs as much as I did, and to be able to start all four wins of the World Series… I can't put into words how much that means. It was a wild ride, but a great one."
Ross returns to Boston in 2014, having signed a $6.2 million deal last winter. At 36, he's one of the oldest players on the team, but he doesn't let that get in his way. "The young guys keep me young," he says. "They do a good job of keeping me up with the music that's going on and what's going on in the Twitter universe. I'm not too up to date on that, but it's fun because I feel like they keep me young and hip. I tell my wife all the time how cool I am."
The team is welcoming a number of new faces this season, and Ross says he's excited to see how it plays out. Speaking from Spring Training in Florida, he reported that things were going well so far. "We got a lot of the guys back, a lot of the core guys," he says. "We're going to miss some of the guys that are gone, for sure, but we have some young guys in their place and that should be exciting. Young guys always bring a little bit of the unknown, so it's going to be nice to watch those guys mature, develop, and I think they're going to be really good players."
He adds, "It's good to be back and see all these guys. We miss each other. It's like an extended family."
And having played on six different MLB teams throughout his 19-year career, that family feeling is what makes Ross love playing for the Red Sox. "There's such a warm feeling and a sense of respect through the whole clubhouse, that goes into the coaching staff, that goes into the front office," he says. "They treat us like people rather than uniform numbers or just part of their business. They really go above and beyond in the element of just treating us like family. That stands out the most for me. It's easy to compete when you've got nothing to worry about off the field other than just coming to the field and getting ready to beat that team that you're playing that day and do a good job of that."
As for Ross's signature salt-and-pepper beard? "I just have a five o'clock shadow," he says, laughing. "The beard's gone. I definitely shed a tear when I had to trim it off. I think my wife and daughter were so tired of it. They were ready for it to go." Here's hoping it'll make a reappearance in 2014.