Where to Watch the Super Bowl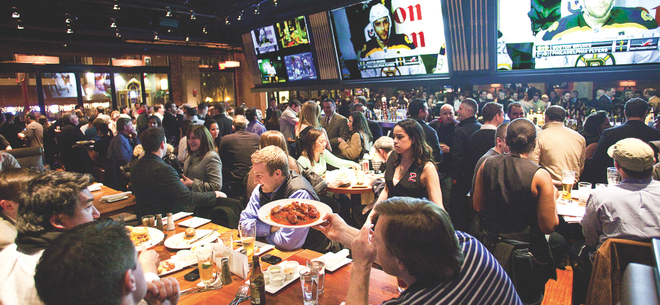 The Patriots losing in the playoffs is no reason to cease celebrations on Super Bowl Sunday. Even though the Pats aren't playing, there are plenty of places to go and watch the game on a giant screen (or 30 screens at once), enjoy some discounted appetizers and drinks, and cheer on whichever team you hate the least.
For those looking to start celebrating early,
Pauli's
is offering up a Super Bowl Breakfast special, delivered straight to your door. Call in your order by Saturday to enjoy a delicious team-themed breakfast like Denver omelet sandwiches or salmon and cream cheese bagels. After all, breakfast is the most important meal of game day.
Sweetwater Tavern
, tucked down an alley near the Boylston Street entrance to City Place, is a cozy spot to yell at televisions among kindred spirits. Enjoy a half-priced appetizer with the purchase of a pitcher, or a basket of 25 cent wings.
Olde Magoun's Saloon
in Somerville is hosting a Super Bowl BBQ Party from 5-9 p.m. A $14 entry fee gets you wings, ribs, jalepeno and bacon mac 'n' cheese, and much more. Head over earlier in the day for the chili cook-off, which starts at noon.
Back Bay staple and home of the Dropkick Murphys,
McGreevy's
is serving up 25 cent wings during the game, plus they've got 16 HDTVs so you won't miss a moment.
Looking for a slightly more toned-down evening? Look no further than
Row 34
, Fort Point's new oyster bar. For their football-enthused patrons, they'll have lobster-roe popcorn and French cider—a welcome departure from your typical game day fare.
And in a similar vein,
Strega Waterfront
has $5 appetizers starting at 4 p.m.
Lastly, Jerry Remy's fame as a red Sox announcer is practically overshadowed by the gigantic television screens that line the walls of
Jerry Remy's Sports Bar & Grille
(pictured). You won't miss a touchdown here—even the bathrooms have TVs. On Super Bowl Sunday—and every Sunday when a football game plays—they offer half-priced appetizers for the first half of the game.