Official Boston Marathon Gear Released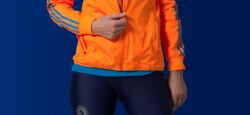 With the 118th Boston Marathon just a few months away, runners are kicking into high gear with their training—and now they've got something new to wear while running.
The Marathon's official merchandiser Adidas recently unveiled the 2014 line of gear that includes the iconic Celebration Jacket, shorts, tanks, tees and shoes. The jacket and several other pieces come in a high-visibility blaze orange, while the rest of the collection boasts a range of blue hues.
The jackets will be supplied to nearly 10,000 volunteers along with race officials and media, and anyone can purchase from the collection at
adidas.com
, select retailers or at the John Hancock Sports & Fitness Expo in April. A percentage of the proceeds will be donated to The One Fund Boston.