Exhibit documents Boston Marathon tattoos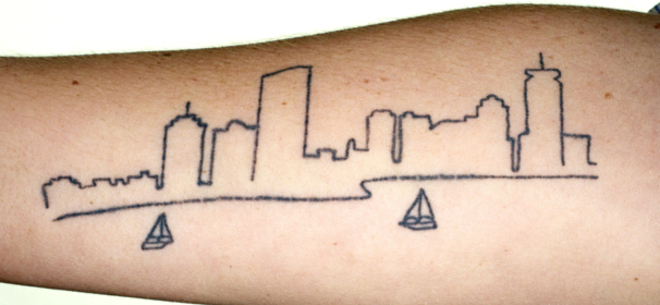 Looking for a way to express his emotions after the Boston Marathon bombings, photographer Chris Padgett decided to get inked—and he wasn't the only one with that idea. When he realized how many other people were getting Boston-themed tattoos to commemorate the tragedy, he started documenting their body art.
One year later, he's unveiling
Bled for Boston
at the Boston Center for Adult Education, where he works as an instructor. "Bostonians everywhere showed their support for the city after the Boston Marathon bombings," Padgett said in a recent release. "Many tattoo shops in Massachusetts stepped up and offered Boston-themed tattoos, donating their profits to The One Fund Boston. I want to document the people that dedicated permanent space on their bodies as memorials to their city, first-responders and the people who lost their lives at the Marathon."
The exhibit includes portraits of 75 people, including MBTA Transit Police officer Dic Donohue, who was injured during a shoot-out with the bombing suspects, and Marathon Sports' Dan Soleau.
The photos will be on view throughout the month of April. They'll also be available in book form and a portion of the proceeds will be donated to the Spaulding Rehabilitation Center. Visit
bledforboston.com
for more details.