Messages from the Marathon Memorial at the BPL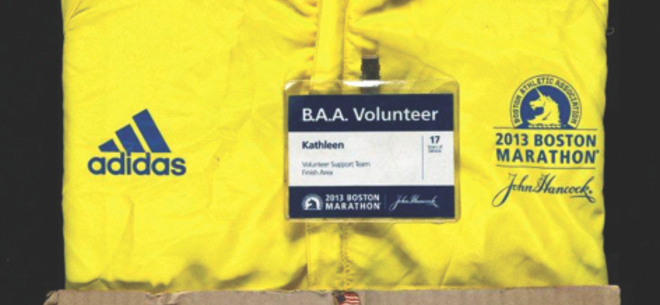 After the tragic events at last year's Marathon, a makeshift memorial popped up at the police barricade on Boylston Street and later at Copley Square. With heartfelt letters, flowers, banners and running shoes, Bostonians and visitors alike shared their love and support for the grieving city. The memorial was dismantled in June, and thousands of objects—down to the tiniest scrap of paper—were transferred to the Boston City Archives.
Now you can see a selection of the collection at the Boston Public Library's McKim Hall in an exhibit called
Dear Boston: Messages from the Marathon Memorial
.
In addition to the exhibit, which will be on view through May 11, the library is hosting a panel featuring
Boston Globe
reporters Scott Helman and Jenna Russell, authors of
Long Mile Home: Boston Under Attack, the City's Courageous Recovery, and the Epic Hunt for Justice
on April 17. And on April 19, photographer Joshua Touster will share his experiences covering the aftermath of the bombings.
Find out more at
bpl.org/press/boston-marathon
.