"Made in Boston" maps it out at the Boston Public Library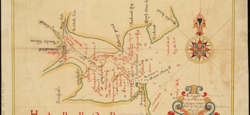 For the first time in decades, a majority of maps made in Boston in the century before the American Revolution come together at the Norman B. Leventhal Map Center at the Boston Public Library. Boston was the largest economic and urban center in America through the 1750s and the leading producer of printed maps. The city can claim a number of major map-making milestones, including the first map printed in the colonies as well as the earliest city map, battle plan, and map engraved on copper.
The maps are recognized for unconventional style and notable contributions to geographical knowledge of the time. They are also telling of the ambitions, anxieties and identities of Bostonians past, from pride in their flourishing city to the hazards of navigating the New England coast. The exhibition also features nautical charts and surveying instruments from the 17th and 18th centuries.
"Each map details this historic time period and brings to life the unique stories of colonial Bostonians," said Ronald Grim, Curator of Maps at the Boston Public Library, in a recent press release. "Made in Boston is a significant contribution to the history of American map making." Curated by Michael Buehler of Boston Rare Maps in conjunction with Map Center staff, the exhibition is on view through March 10, 2014.
The Leventhal Map Center is located inside the Boston Public Library's Central Library in Copley Square at 700 Boylston Street. It is open Monday–Thursday, 10 a.m.–7 p.m., Friday & Saturday, 10 a.m.–5 p.m., and Sunday 1–5 p.m.